Everygame Casino Can Take You Far
One of the most useful bits of advice we give our newer gamers at Everygame Casino, is that they should take advantage of the fact that they are playing at an online casino.  So many come to Everygame after gaming at land based casinos so they don't think about how much more flexible Everygame Online Casino is!
At a land based casino, you become rooted to your seat because you don't want to lose the game you've been playing.  At Everygame, you can't lose your seat became we have all of the room in the universe!  So go from game to game.  Explore.  In this article, we'll talk about some of the unique features of Everygame slots.
Trigger Happy
The old Wild West is long gone so we can only experience it through movies, stories, and slots!  In Trigger Happy, you meet beautiful young Wild West women. They're buxom, all right!  One is blond and the other has long red hair.  They work in sync with each other as duel wild symbols!
In keeping with the Wild West theme, the free spins bonus round is "triggered" at random.   The wild symbol cowgirls will work for you in the free spins round but you have to choose between them - believe us, the one you don't choose will not get jealous.
You can get extra free spins with three scatters. This great slot also features two jackpots.  One of the jackpots is a 1000x multiplier.  So gallop on over to Trigger Happy.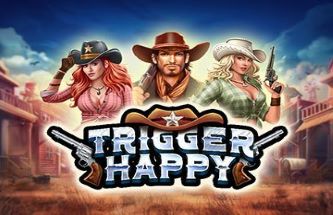 Naughty or Nice
At Everygame, we feature beautiful women in many different slots.  Going from the shoot 'em up West to the Christmas spirit, we feature the Naughty or Nice series.   Each slot in the series has its unique elements.  The first Naughty or Nice has candy galore and a jovial Santa.  You can win a progressive jackpot and the 50 paylines give you a lot of chances to be deemed "nice".
Naughty or Nice II is called Spring Break because Santa is on vacation with his beautiful elves.  Mrs. Santa is not so happy about ol' Santa's shenanigans while on vacation in "wild" Florida.  The mirth and merriness of Christmas comes through in Naughty or Nice Spring Break even though, in the story within the slot, we are months away from Christmas.
Naughty and Nice III follows Santa in the long tradition of great Santa-themed slots.  You can win a nice jackpot and get into the holiday spirit even in the summer!
Lucky 6
This is a leprechaun-themed slot with another great RealTime Gaming innovation: six reels.  There are ten pay lines in Lucky 6 which play like many more since you can win in either direction!   The pot of gold pays the most in the regular game and also in the bonus round.  Getting to the bonus round involves getting four scatter symbols.  The scatters are the letters LUCKY and the number 6.  Each scatter holds sway on its very own reel. 
Let Your Imagination Run
We hope that you already see the huge variety of slots at Everygame.   By using our infinite size, you can play all of our slots over time and several in any session.  You can venture far and wide and enjoy many sights and sounds along the way. 
Let's see a few more examples!
Pirate Isle
This slot came online in 2015.  It uses 3-D graphics and great animation to recreate the era when pirates ruled the seas.  The wild symbol has a 2x multiplier and the scatters offer a 200x multiplier and other bonus features. 
One is the Treasure Map bonus.  You get a treasure map with three scatters and you choose locations of buried treasure.  Each location wins a unique buried treasure which you continue to collect until you choose the location with the "collect" note.  Then you'll return to the regular game to seek out even more treasure!
Ghost Ship
This is another pirate-type of slot but it really is about the ship itself and the ghost that inhabits the ship!  Are you brave enough to get aboard the ghost ship which is anchored safely in a hidden cove.  The cove is hidden and so is the huge treasure!  The treasure is hidden somewhere on the ship but you have to be courageous enough to challenge the ship's captain in order to have a chance at finding the treasure! 
The ghost is the wild symbol.  It can envelop an entire reel which will make it a lot easier for you to find the hidden treasure.  You can win a jackpot at random on any spin if on that spin you get the treasure chest, the captain, or the Ghost Ship itself. 
In fact, there are two random jackpots in Ghost Ship.  One is big and the other is very big!
Voodoo Magic
Oooooo!  This slot will have you on the edge of your seat!  Remember, you can eat cake, drink coffee, and relax while you play this adventurous and somewhat scary slot!  But it's still a slot; a way to let your imagination run!  So let yourself get into the voodoo and at the same time stay within our modern society with all of its safe conveniences!
Voodoo Magic is set in a dark forest!  Oooooo!  You'll stumble upon a hut in the forest.  Living in the hut is a voodoo priestess.  Oooooo!  She has snakes and voodoo dolls and cauldrons and skulls.  Dorothy would say that she and Toto were not in Kansas anymore!  Oooooo!
In the bonus round, you get multipliers.  The multipliers add to the sinister nature of Voodoo Magic since they get bigger with every free spin.  So, with 25 free spins, your multiplier on the last free spin is 25x!  If you win big on this free spin, you'll be saying Oooooo too and not from fear but from sheer black magic joy!
A Sample
Obviously, this is just a sampling of the great excitement that can come your way when you not only play slots at Everygame Red but also go from slot to slot.  Switching your imagination from the Wild West to Santa to Ireland to Pirates and Ghost Ships and finally to the scary high priestess of voodoo in the forest will give your imagination a thorough workout.
Just what the voodoo doctor ordered.  Oooooo!
Next time, we will continue with a thorough discussion of other games here at Everygame.