We are handing out tickets to the land of fun and sweets at Everygame Casino! Visit our blog and learn more about the Candyland casino promotion, with $150,000 in total giveaways!
It's time for Valentine's and Carnival, so we are also celebrating in the sweetest possible way at Everygame Casino! Join us for the Candyland casino promotion and win your share of the $150,000 in giveaways.
Sweet and Colorful Celebrations
The end of the year festivities are already over, but the fun never stops at Everygame Casino. And if you are here, it means that you have one of the golden tickets to Candyland! We will take you on a tour that is filled with prizes - including a pretty big one right at the end.
Does that sound familiar? We are paying homage to Charlie and the Chocolate Factory, the famous 1964 novel by British author Roald Dahl. A book so successful it was adapted into the big screen not once, but twice! In the story, Willy Wonka takes a group of kids on a tour around his magical chocolate factory. And once the tour comes to an end, one of the kids is also promised a special prize.
Speaking of sweets, do you know where Valentine's association with chocolate comes from? It all started in 1868 in Britain when the famous chocolate company Cadbury released a special product for Valentine's Day celebrations: a heart-shaped box filled with chocolate. The trend quickly caught on and, well, the rest is history.
Candyland also has the sweetest slots for you. Of course, we are talking about the one and only Sweet 16 slot. It will make your day even sweeter with morphing symbols, creating a cascade of new wins which adds multipliers up to 10x!
But Valentine's isn't the only thing we are celebrating. After all, there is another special occasion that is just as sweet: Carnival!
Its origin dates all the way back to the Middle Ages, sometime between the 11th and the 12th century, making Carnival one of the oldest Western festivities. These celebrations traditionally mark the end of the pre-Lent period, also known as Shrovetide. Carnival is the last opportunity to let it loose before the period of fasting. And because of that, no stone should be left unturned during the festivities. There was plenty of meat, alcohol and, of course, there were also lots of parties.
In the US, Mardi Gras is almost synonymous with Carnival. In a literal translation, Mardi Gras means "Fat Tuesday", or the last day before Ash Wednesday. Celebrations began with French colonists, and are now common in many of the major cities. Mardi Gras is famous for its colorful street parades, making it a celebration of life before the sombre season of Lent.
And speaking of Mardi Gras, one of our featured games for this promo is - you guessed it - the one and only Mardi Gras Magic slot! Dress up and join in on the fun and you will probably end up throwing your own party in the end. After all, you will have plenty of chances to win thanks to features such as bursting wilds, free spins or random prizes that can be awarded at the end of any spin - even losing ones!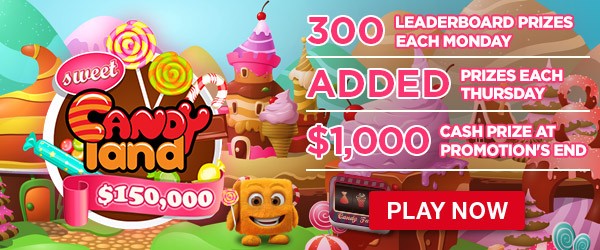 Party Hard at Everygame Casino
Speaking of a sweet Carnival, the festivities at Everygame won't be lacking in sweet prizes. The promotion runs from January 31st until March 7th, which will give you plenty of chances to win. Before you get to go on a tour around Candyland, you need to buy the chocolate bar and find the ticket. In order to participate, deposit a minimum of $75 during the promotion period. Put on your best costume and enjoy what only the magical Candyland has to offer!
Choose your favorite game and start earning points - you get 1 point for every $100 spent on any game of your choice. Collect enough points to place inside the weekly top 300 and you will be eligible for prizes of up to $500 on Monday. There is no place for sadness in the Candyland, as the rank resets on a weekly basis, always offering another chance to win.
Deposit and play with a minimum of $25 between Monday and Wednesday to qualify for our Thursday draw. We will reward 50 players with sweet bonuses up to $150! Don't forget to check your emails every Monday and Thursday to know if you won!
But we've been saving the sweetest prize of all for the end of the Candyland tour. The top 20 weekly players will take part in a final draw, and the winner will take home $1,000 in cash!
Visit the Candyland at Everygame Casino and get the party started right away! Start with coupon CANDYLAND1 and enjoy a 100% up to $500 bonus. Afterwards redeem coupon CANDYLAND2 to get 50 free spins on Sweet 16.*
* The bonus offers are valid until February 28th 2022.
* The minimum deposit amount to qualify for the 100% bonus is USD 20. The maximum bonus amount is USD 500.
* The offers must be redeemed in consecutive order.
* Free spins are only valid for Sweet 16.
* Any winnings from the free spins are subject to a playthrough of 60x.
* Standard wagering requirements apply for the deposit bonus.
* Please note: Terms and Conditions apply.