Can Everygame Help Me Get a Quickie Boost of Fun and Funds?
A lot of our gamers ask us how they can get a quickie boost to their casino accounts.  There are two super ways to get a quick influx of money to your account.  The first is to win money while using your free spins!  For example, every slots game has a free spins bonus round with extra ways to score a big win. 
In addition, we at Everygame Casino offer many bonuses which are simply a way to add a lot of gaming credits to your account.  We have several ways of adding money to your account fast and we'll go into some detail on all these great bonuses soon.  Before we go into the many bonuses we offer, we would like to point out that online gaming at Everygame Casino is a great way to get a "quickie boost" in many other areas in addition to the financial.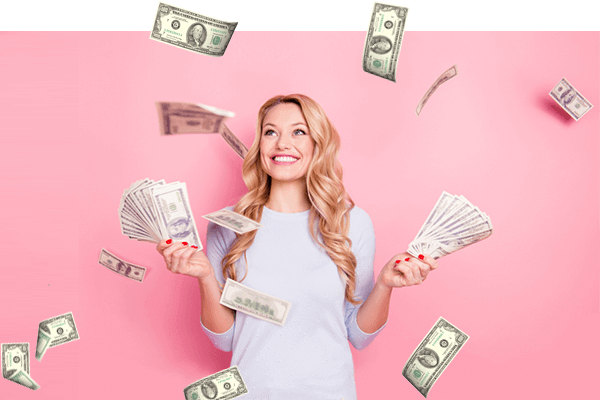 Fun
Online gaming is just a great way to have fun!  One of the biggest so-called quickie boosts to your gaming account is all the money you save when you don't travel to a brick and mortar casino!  Think about it.  The last time you travelled to a casino, how much did it cost for travel, hotel, restaurants, souvenirs, gifts for friends and family, and other expenses? 
Well, play online and there….voila…. you have a solid quickie boost to your account - no expenses!
Online you can get a no deposit bonus and some free spins to boot.  Those free spins have the potential to give you a fast boost to your account.  Imagine getting a no deposit free spins bonus at a land based casino - unheard of!
We offer so many bonuses that we need to use bonus codes to keep track of all of them!  So, whenever you accept a bonus make sure that you enter the correct bonus code!  One of the best ways to get a quickie boost to your account is to use the no deposit bonus codes and play, play, PLAY!
Lots of Games for Lots of Fun
We were talking about fun!  Everygame Casino offers you over 300 games in many games categories.  For example, we offer about 200 slots plus many table games such as blackjack and Caribbean poker.  We also offer many variations of video poker with the option to play one hand at a time or many more. 
That's not all!  We also offer casual games that have taken our gamers by storm: Banana Jones and Fish Catch. 
Yes, it's true that there are a lot of games at any large land based casino.  But what happens when you switch to another game?  You lose your seat at the game you were playing!  Not at Everygame Casino!  We keep your "seat" warm at all times!  Actually, you don't really have a seat here.  You see, our address is cyberspace where there are an infinite number of casino "seats" so you never lose your seat because you never leave your seat because you don't have a seat. 
If all of this circular explaining is making your head spin, then it is certainly the right time to get some online casino free spins right here at Everygame Casino!  Always keep in mind that free spins are built into every slots game and you can also get free spins as part of casino bonuses.  When you take a bonus, remember to use the correct bonus code and you'll be all set!
Take Control of Your Free Time
Did you know that online gaming is a good way to build up your self-confidence and self-esteem?  It's all connected to taking control of your free time!  It's different at a land based casino where in effect you give up control of your free time since other than gaming there isn't much to do!  Sure, you can sleep, eat, or drink but when you play at Everygame Casino you set your sessions in advance so you have time to do a hundred other things on your weekends or after work.
Try getting together with friends when they are all back home and you're at a land based casino!  Play at home for a reasonable period of time and then get together with friends or family.  At an online casino, you are in complete control!
Fast Paced
We live in a fast paced world.  Online gaming gives you the chance to slow down and simply play.  The mobile gaming platform has become so good that you can curl up on your soft sofa and play with superior graphics designed especially for the top mobile devices.
Free Play
Another "quickie boost" to your gaming fun is our offer of unlimited free play in every game.  Let's see how free play enhances your gaming enjoyment.  First, you never lose your seat at Everygame Casino as we mentioned above.  We offer more games than a land based casino can offer because when a land based casino brings in a new game it has to take out an old game.
We can add more games indefinitely because no one has yet discovered the ends of cyberspace!  Finally, you should want to play every single one of our great games.  After all, our games provider, SpinLogic Gaming, has teams of creative geniuses working hard to bring out a new game, usually a slot, every month!
When you try out a game that you haven't played before or a game in a category that you unusually don't play, our offer of unlimited free play means that you can play at no cost whatsoever.  And no cost means a giant quickie boost to your casino account!
Games of Skill and Games of Chance
Unlimited free play has turned gamers who considered themselves to be exclusively games of chance players into fans of games of skill as well and vice versa!  You see, you can always come back to any game you like a lot even though you are checking out a game that you thought was not in your priority list.
In this way slots players have "discovered" blackjack and video poker; and blackjack and video poker players have "discovered" slots!  And if you use our free play offer, the grand discoveries come at no cost at all!
Gamification
Wow! What a term!  Gamification is a very newish term that refers to the gaming element in everything we do.  Gamification does not mean that we treat our adult activities like childhood activities.  The exact opposite is what gamification is all about.  It means that we treat adult activities as aspects of enjoyable endeavors.
Playing online casino games at Everygame Casino is a way of using games to enhance your free time, to build up self-esteem, and to show yourself that you are in complete control of your own actions.
These subtle aspects of online gaming can transfer over into your professional lives as well.  Let's say that you are studying for a very difficult professional career.  Every day and night you have to devote many hours of study.  Online gaming provides a kind of quickie boost as you take a break and do something that requires a lost less concentration than your studies do!  Return to your studies more relaxed and decompressed.
Bonuses at Everygame Casino
At last we have arrived at the point where we can explain all of the many bonuses and extras you can get here at Everygame.  So let's get going with the Welcome Package.
Hello, How are You?
At Everygame, we like to say hello and welcome with a big bang!  Our five welcome bonuses are the perfect way for new gamers to get a quickie boost to their starter's casino account.  The Welcome Package at Everygame is potentially worth $5555!  Here are the details.
We will give you a 125% bonus up to $1000 for your first deposit. 
Next, we will give you a 150% bonus for up to $1500 for your next deposit.
We aren't done!  For the next deposit, you will receive another 125% bonus completely free for up to $1000.
You might think that enough is enough but, nooooo!, we aren't finished yet.  For your fourth deposit, we will give you a 150% bonus up to $2000.
To top off the "cake" that all of these deposit bonuses constitute, we will place a giant cherry on top!  The cherry is a $55 no deposit bonus.
All together, these bonuses can reach $5555.  How quickly can you say "quickie boost"?
Bonuses that Keep Coming
We run a promotion for every new game we introduce.  Often, the promotion calls for one or more deposit bonuses with free spins as well.
As we are writing this article, we are running two promotions with a Halloween theme. The first is for October's new slot called Halloween Treasures.  It involves cash bonuses and free spins.  The second October promotion is called Witch's Riches.  Every Monday in October we give away a quickie boost to 300 lucky gamers!
Of course, these great promotions will run their course.  But we will replace them next month with another one or two great account boosting promotions and then again the next month and on and on into the wild blue yonder!
We Have Our Very Own Wheel of Fortune
This is one of our permanent promotions.  Every day, we give away $1000 in our Wheel of Fortune promotion!  Twenty lucky gamers each receive a $50 bonus.  All you have to do is play any game and you automatically qualify for the weekly giveaway!  Free cash was never so easy to get!
Mobile Offers Two Quickie Boosts
We have an ongoing promotion that supports the great popularity of our mobile gaming platform.  So, a few words about our mobile platform are in order.
There was a time when the technology for mobile casino gaming was not great.  Everyone wanted the mobile platforms to become great and they did!  Now, mobile gaming offers one of the best quickie boosts to gamers' otherwise very busy days!  The graphics on our mobile gaming platform are so good that many people take very short sessions as a quickie break from their professional activities.
Every quickie break is like a separate quickie boost to the fun you can have gaming online at Everygame Casino.
One interesting aspect of short gaming sessions on our mobile platform is that many gamers use these quickie sessions to play on progressive slots worth upwards of $1,000,000.  If you take a few spins on the mobile platform and hit the jackpot, you will surely call that the quickie boost of a lifetime!
The mobile bonus is similar to the Wheel of Fortune with the single proviso that it applies only to gaming on our mobile platform!
Comp Points
These are points that you accumulate for playing.  It's as simple as that!  Most gamers accumulate a huge number of comp points without even paying attention.  That's how quickie…that is, quickly…. they grow!
When you have enough comp points, you can convert them into cash and it's game on!  Sometimes, we run a promotion on a specific game in which we offer double comp points.  That gives you and even "quickier" convertible accumulation of comp points!
Get a Boost up on Your Fun
As you can see, we at Everygame Casino offer you many ways to enhance your gaming pleasure from the simple availability of online gaming here, to our many bonuses and promotions, to the large number of games we offer, to the chance to play in free play mode forever and ever, to…well, to every aspect of gaming here at Everygame Casino Red!
So, we invite you to join up if you aren't a happy Everygame gamer yet or to come here as often as you like if you already are signed up, registered, and ready for action!
---
Get Your Special QUICKIE BOOST Bonus Today!

Deposit $400 - Get $500
Deposit $40 - Get $50
125% up to $500 Bonus

Coupon Code: QUICKIEBOOST