Everygame — The Top Online
Swiss

Casino

The Swiss people—hard-working and meticulous—will accept nothing less than the very finest. The finest watches. The finest chocolate. And the very finest online casino: Everygame Casino Switzerland. That is the destination of choice for the finest casino games, the finest casino bonuses, and the finest casino jackpots.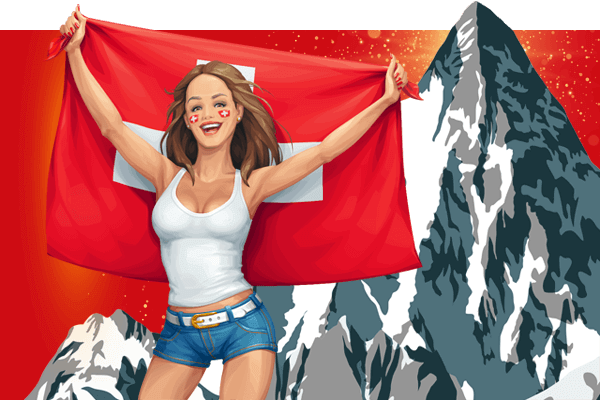 Top Online Games at Everygame Switzerland
Everygame Online Casino Schweiz is stocked with hundreds of great online games. Slot machines, roulette, and blackjack. Video poker, three-card poker, and Pai Gow poker. Craps and Sic Bo, Bingo and Keno, and a whole lot more.
How do you like your jackpots? Do you prefer Aztec's Treasure, Cleopatra's Gold, Coyote Cash, Derby Dollars, Loch Ness Loot, Mermaid's Pearls, or Regal Riches? No matter—you can find them all when you play the great slot machine games at Everygame Switzerland.
Yes, when it comes to slots, Everygame has it all: traditional 3-reel slots, modern 5-reel slots, and super-modern 6-reel slots. Slots with wild symbols, scatter symbols, free spins and multipliers. Slots with 3 paylines, with 10 or 20 or 50 paylines, and slots with 3,125 All Ways Pays. Slots with Bonus Rounds and second screens.
Everygame slots will take you back to Ancient Egypt and forward to the intergalactic future, down to the ocean depths and up to snow-covered peaks, to meetings with everyone from Cleopatra to the Three Stooges. And every Everygame slot machine features brightly colored graphics, smooth game play, and real chances to win!
Whether you play slot machine or table games or something else—or if you enjoy playing all of the above—you will find absolutely top online games at Everygame Switzerland. Enjoy the view and enjoy the games!
Bonuses, Promotions, and Casino Rewards
Everygame Online Casino CH loves its players, and it is not shy about showing its love through abundant bonuses, promotions, and casino rewards.
Start it off with the sizzling 200% Swiss Fun Bonus. Yes, two hundred percent! That means you can quickly and easily triple your bankroll. Deposit $50 and we'll give you an additional $100. For the best value, deposit $1,000 and we'll give you a $2,000 bonus so you'll actually have $3,000 to play and win with. Goodness gracious, $3,000!
It's tastier than Swiss chocolate (and nothing is tastier than Swiss chocolate)! And it's so easy: you just sign up for an Everygame Casino account, enter the coupon code SWISSFUN in the Redeem Coupon section of the Casino Cashier, and make your deposit. It's as smooth as skiing down a Swiss mountain, but with no danger of breaking your leg.
And that's not all. Just take a look any time at the Everygame Promotions page and you'll find a whole menu of exciting casino rewards including deposit bonuses and no-deposit bonuses, birthday bonuses, random cash giveaways to lucky players or additional free spins on this month's selected Slot of the Month. Everygame has monthly promotions, weekly promotions, and daily promotions, so stay tuned to Everygame and there will always be something new and exciting.
Everygame also offers a wonderful Loyalty Program. Earn Everygame Comp Points every time you wager real money in the casino, and then redeem your Comp Points into casino credits for more real-money wagering and more chances to win. It's a whole lot of love—and a whole lot of casino rewards—pouring out from Everygame Swiss Casino.
Download, Instant Play, and Mobile
Everygame Online Casinos Switzerland offers three convenient platforms for your online gaming convenience. First is to download the Everygame casino software onto your computer's hard drive. The download is free and the whole process takes barely a minute. With the biggest selection of games, and with a big colorful screen to play them on, many people consider Download to be the top choice.
Second is Instant Play. No need to download anything; you can play the games right here on the Everygame website. One advantage of Instant Play is that you are not tied to any particular computer that has the casino software. If you are at work, at a friend's house, at the library, all you need is a computer with an internet connection, your username and your password, and you're ready to go.
Finally, there is the Mobile option. Your smartphone and your tablet go with you wherever you go, and so can your casino. It really is just like having an entire casino in your pocket or handbag. Going mobile is the ultimate in online gaming freedom.
The greatest thing of all is that one Everygame account does it all. One Everygame username and one Everygame password enable you to play the Everygame Download Casino at home, the Everygame Instant Play Casino at work, and the Everygame Mobile Casino when you're on the go. Isn't life grand?
It's Safe and Secure
It is natural—indeed, it is advisable—to be concerned about safety and security when you conduct any type of online business transaction, including online casino gambling. Fortunately, Everygame Online Casino Schweiz is as concerned as you are and has taken every possible step to make sure that:
Every game in the casino is completely fair.
Every spin of the reels, every deal of the cards, and every roll of the dice is absolutely random.
All of your personal data (address, telephone number, email address) and all of your financial data (bank account number, credit card number, deposit and withdrawal records) is confidential and will be protected with the most up-to-date human and technological solutions.
Your money—money that you deposited and money that you won at the online games—is indeed your money and can be withdrawn without a hassle.
This is our solemn pledge. When you join Everygame, you can enjoy the games with complete peace of mind. We'll take care of keeping the hackers and scammers away, you just concentrate on spinning and winning and having real online casino fun.
We're Here for You
Everygame Swiss Casino is justly proud of our Customer Support staff. They are, without exception, knowledgeable, helpful, friendly, and polite, and they are always on the job. At any time of the day or night, on any day including weekends and holidays, you can contact them by e-mail, toll-free telephone, skype, or live chat.
So anytime you have any question or concern—about your bonus, about your deposit or withdrawal, about the rules of a game, about anything at all—just give us a call and we'll be happy to help. After all, we're here for you.
You Are Invited to Join Us
Now that you know a little about us, you are most cordially invited to join us at Everygame Online Casino Switzerland. Enjoy great games, great bonuses, great security, and great support. Enjoy all that the finest online Swiss casino has to offer. And while you're at it, enjoy some fine Swiss chocolate too!
Good luck, and have fun!