Thanksgiving Adult Entertainment Ideas - Choose from our Dozens of Ideas!
Hip Hip Hooray!  Summer has finally let go.  The leaves are turning color and are starting to fall off the trees.  The costume holiday of Halloween is now giving way to Thanksgiving month. 
You know what that means, don't you?  Yes, airports, long flights back home, family feasts, reunions with your high school buds, shopping, and after all that, some extra time on your hands.
So let's see what Thanksgiving adult entertainment might offer this month.  Yes, that does sound a tad risqué but you wouldn't believe how many simple adult party games you can play with family and friends during the Thanksgiving weekend!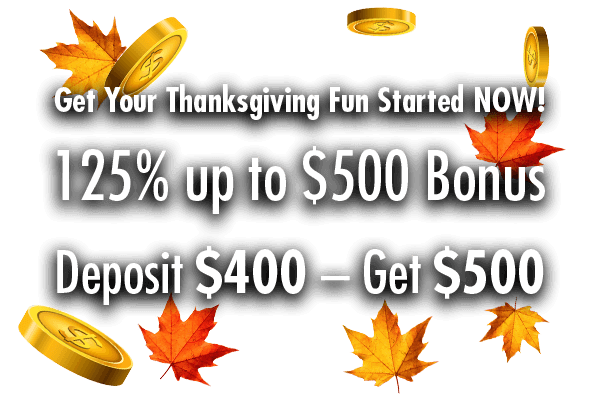 Everygame Casino Will Say Thanks 150,000 Ways this Month
Everygame Casino online is happy to announce that we are getting in the Thanksgiving spirit with our newest month-long "Golden Leaves" promotion which will actually run for five weeks! 
That's how much we feel the need to say thanks to all of our gamers who have helped us make 2019 a great year for fun, entertaining online casino gaming, and great online casino promotions!
The Leaves are Alive with the Colors of Autumn
Yes, the name of our new promotion is Golden Leaves in honor of Mother Nature's way of giving thanks for the end of the long, hot summer!  
Shop 'til You Drop
But before we get to the promotion, just imagine for a moment that a group of the old gang plus some brothers and sisters, parents and grandparents all decided to work off the big Thanksgiving feast by…. going shopping!  Or even better yet, you spend all day, the next day, jumping from store to store for those Black Friday specials!  Hours later you flop down on the soft and cushy sofa with your excellent mobile device that you received as a gift last Christmas!
What Shall I Do Next?
You decide to make a game and a bit of a competition out of online gaming as your Thanksgiving adult entertainment.  Online gaming at Everygame Casino is one of the best ways for adults to have fun!  You, your family, and friends can spend some time playing in our Golden Leaves competition!
Can I Play Golden Leaves before and after Thanksgiving?
Now you're interested!  The Golden Leaves promotion runs for five weeks starting on November 4th!
So, you certainly don't have to wait to Thanksgiving to take part in Golden Leaves promotion!  Starting on November 4th you'll be able to play, have a lot of fun, win some of the $30,000 we are giving away every week during the promotion, and get happy!
Here are the details you need to know about Golden Leaves:
The promotion begins on November 4th and runs for five weeks.
Every week, Everygame Casino will give away $30,000 in prize money.
Every Monday, the top 300 players on our leaderboard will share in the big $30,000 weekly prize.
To qualify for your honored place on the leaderboard all you need to do is deposit $75 and say "Game On"!
Of course, we can't hear you say "Game On" but we encourage you to do so as a way of getting into the excitement!
For every $100 you wager on any game at all at Everygame, you'll get one point toward your position on the leaderboard.
There's Nothing Like the Present
This new promotion at Everygame Casino opens up a world of opportunity for you.  In the more than 300 games at Everygame, you can go from ancient societies to futuristic storylines, from holiday fun to start adventure, from romance to tongue-in-cheek games.  We also offer several variations in the games of skill such as blackjack, poker, and video poker.
You accumulate points by playing any game during the Golden Leaves promotion so we suggest that you play every game!  Now that's what our long term gamers call a world of fun!
To All Our Newbies: Thank You
That's the spirit of Thanksgiving and that's the spirit we show when we offer new players a Welcome Package that consists of five bonuses, four deposit bonuses and one no deposit bonus, and all together these five bonuses can put $5555 of the casino's money in your account!  Here are the happy details:
For your first deposit, you get a 125% bonus for up to $1000.
The next deposit brings a 150% bonus good for up to $1500.
Keep going!  You're doing great!  Your third deposit has another 125% bonus for up to $1000.
The fourth and final deposit bonus in this amazing Welcome Package is a 150% bonus for up to $2000.
We top off the Welcome Package with a $55 no deposit bonus.
Now you're ready to enter the wonderful world of online gaming at Everygame.  As you can see by this article, we add promotion upon promotion!  Every month we have at least one promotion and often we run two promotions simultaneously!  Although November is the month of Thanksgiving, we might say that we say thank you to all of you, our loyal gamers, every month of the year and truth be told, every day as well!
With a Welcome Package this good and with great promotions going all the time, this is the best time to sign up to play at Everygame Casino!
Is Thanksgiving Just about Entertainment for Adults?
Indeed not!  There are a lot of Thanksgiving adult entertainment activities that the little ones can participate in, too.  In fact, one of the most entertaining things about the grand reunions we enjoy at Thanksgiving time is that so many things we do all together bring grand smiles to the adults' faces and loud laughter and childhood joy from the kids.
Help Carve the Turkey
You cooked a butterball turkey, stuffed with bread, eggs, mushrooms, onion, celery, and seasoning and, yum, the house smells so good as the turkey cooks slowly on.  Finally, it's time to carve the turkey.  You can get several of the older kids to help carve the turkey as you hold the carving knife and the kids, in turn, slice off juicy servings from the turkey!
Watch the Parade
Thanksgiving - THE day for parades on TV - be sure to check out the Macy's Parade - the blue ribbon of all parades.  This is actually a fun, entertaining activity for all the family.  Pop up a big pot of popcorn and sit with the kids to explain what all the floats mean and who the celebrities are riding the floats.
Take a Hike
That's not a kind of insult on Thanksgiving.  It's an actual suggestion.  You can take a family hike before the meal to get everyone's appetite up and you can take a more leisurely hike after the turkey and stuffing, cranberry sauce and pumpkin pie are still settling, after the meal.
Hiking like this is even better if you combine several families.  You get to talk about all kinds of things, reminisce, catch up with what everyone is doing - Thanksgiving brings out the nostalgia in all of us - and the kids will love all the attention they're getting from the grownups!
Depending on where you live, you might be able to combine Thanksgiving with leaf watching!  Everyone will thrill to the many colors of autumn!  The head scientist in the family might explain exactly how and why leaves turn color as the weather gets cooler in the fall. And then go outside, rake up those leaves into a huge pile and JUMP IN!
Play Tag Football
Now, no one should be as competitive as Monica and Ross were on Thanksgiving!  Take it easy and you'll have a lot of fun.  Get the kids involved and let them run around tagging people.  The kids will be so happy that they'll screech with joy!
Shopping
There might be some adults who get their Thanksgiving adult entertainment out of pushing and shoving in the stores on the Friday after Thanksgiving - the famous Black Friday.  Let's try shopping as a simple, fun activity.  Take the kids and give them a modest stipend to spend on themselves. 
We think that you'll be greatly entertained when some kids spend some of their money on something for you! 
Play Board Games
Any group of adults can get a lot of fun out of a marathon of the best board games from your childhood and the present.  One of the best ways to pass a little time is to go through all the stuff in the attic, all the memorabilia that's still around.  The adults can even go from house to house searching out the most nostalgic items that time has preserved.  The kids will love to hear all the stories that surround the many gems you find and the adults will get many a belly laugh as they try to top each other by embellishing every story!
Show the Kids Your Old Family Albums
Today's kids might not even know what an album is!  They certainly don't remember what you looked like when you were their age.  It's easy to make a game of it.  Show the kids pictures of everyone way back when and have them guess who is in each picture.
You can award points but the real fun comes from the good times everyone is having.
Go through Your Closets
You never did it when you were younger but going through your closets will give you the chance to remove clothes and other things that have no sentimental value and that you will never wear again and donating them to people who can use them.  The kids will like to help and purging the closets and drawers is another great way to tell all those old stories.
Prepare Healthy Foods
We aren't saying that mouth-watering turkey and all the trimmings aren't healthy but in the modern world healthy foods might include miso, tabbouleh, gluten-free delights, sugar-free desserts, and more.  If you get the kids eating modern, healthy foods early they might grow up to think that all these wonderful foods actually taste good too!  So include a few healthy choices in your Thanksgiving dinner.
Set the Table
If you're going to be eating with a lot of people, then setting the table is an activity unto itself.  Once again, the kids will enjoy helping.  There is a period between age six and say age twelve when kids like to help set the table.  From twelve to twenty-something, setting the table is about as palatable as greens were to John Pinette (check it out on YouTube)!
But you're an adult now so setting the table is one way you can bring a big smile to mom's and grandma's faces!
If the kids put the forks to the right of the plate, leave them there.  You can always tell the kids later that in general, usually, most people put the fork to the left of the plate because…..reasons.  And bring out the arts and crafts supplies so the kids can decorate the holiday table.
What Can the Adults Do after the Kids Go to Sleep?
There is the modern version of reading all night: binge watching old tv shows.  On the holiday weekend, we suggest getting nostalgic and watch those shows you liked in your previous incarnation.  You'll be amazed at how entertaining it is to see the shows you thought were great shows way back when.
Watch Football
This happens in the best of families!  It's almost always the men although women have also been known to get some Thanksgiving adult entertainment from watching football.  This is a BIG NFL day for the football lovers in your family. 
If watching football is what stirs your drink then we say go for it.  If you'd rather do the hundreds of other things with people you don't see so often, we say go for it double!
Decorate the House
Some people like to start Christmas decorations already at Thanksgiving time.  Others who decorate their houses for the holiday season might also start now.  If everyone is into it, this is a great activity for bringing people closer.  You can also decorate the house for Thanksgiving with turkeys and other appropriate decorations.
Winding Down
Much later, long after the kids are asleep, and after almost all the adults have gone to bed or fallen asleep on the sofa or on the floor, you might take a good book off the shelf.  You could enjoy a glass of wine and quietly reconnect with a family member or an old friend.
Thanksgiving adult entertainment comes in all shapes and sizes, loudly and quietly, in large groupings and intimate moments, with a good wine or a delicious bowl of miso soup!
We wish everyone a wonderful Thanksgiving holiday and encourage one and all to play in our big $150,000 giveaway promotion called Golden Leaves starting on November 4th and running for five weeks.
And in Addition....
Check out our instant bonus for your Thanksgiving adult entertainment: 
Get 125% matching bonus up to $500
Bonus Code: THANKSGIVING19
That means you deposit $400 and play with a whopping $900! The bonus is valid until December 5th 2019. From us to you - have fun!!!