Get Your Casino Love - Everygame Valentine's Day Promotion
February 14 is fast upon us and Everygame Casino is happy to announce that we will be celebrating Valentine's Day with a lovely promotion!  We are calling this promotion Casino Love.  You will be able to access this and all Everygame Casino promotions by redeeming your bonus coupon codes.  With the Casino Love promotion, you will receive a matching deposit bonus followed by a no deposit bonus in consecutive order.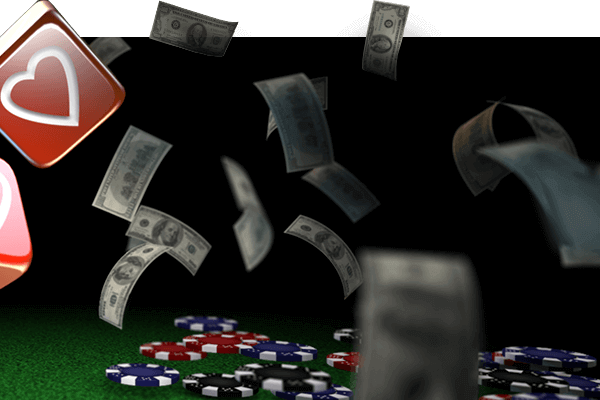 Here are the details of our two-part Casino Love promotion:*
First, the promotion begins with a 150% bonus up to $500.  The bonus coupon code for this first part of the promotion is: CASINOLOVE1
The second part of the promotion is a $14 no deposit bonus that you can get with the coupon code: CASINOLOVE2
* valid until February 28th, 2022.
* Coupons have to be redeemed in consecutive order.
* Max. cashout for the no deposit bonus is $200 with 60x wagering.
What is Casino Love?
There is a recognized kind of love that we feel for a person - especially a person - who is always there for you and never asks for anything more than the same in return.
Here at Everygame Casino Red we feel that an institution that is always there for you can evoke feelings of love as well!  Thus, Everygame Casino works diligently to bring you the best online casino gaming with new games every month, ongoing and monthly promotions, and the finest mobile gaming platform in cyberspace.
Casino Love is a celebration of Valentine's Day and it is also a celebration of love in general.
When Did Valentine's Day Start?
The day is actually St. Valentine's Day and it has a religious origin as the Catholic Church honors St. Valentine on this day.  In the early days of Christianity, it was dangerous to openly espouse Christian beliefs and St. Valentine was beheaded for his "sin" of faith.
The day started to take on a more romantic air in the Middle Ages and young men and women - boys and girls actually - would draw lots to find out who was their Valentine that year.  Teens of the day especially enjoyed the frivolity and playful, romantic side of Valentine's Day since they knew that they might be married the next time the day came around!
Victorian Valentines
The Victorian Age in Britain was known for its prudery but the custom of giving chocolates to a "valentine" and exchanging love notes actually began in Victorian times.  And continues right up to today with Valentine's Day being a very big business day for florists, chocolatiers, and greeting card companies.
Even Shakespeare got into it in the 16th century when he has Hamlet refer to Valentine's Day in one remorseful comment to Ophelia!
Slovenia is known as the country of beekeepers as one in 200 families keeps bees.  There St. Valentine is known as the patron saint of spring, good health, pilgrims, and beekeepers!  According to Slovenian legend, the plants that later will flower providing valuable nectar to beekeepers' bees, start to grow on Valentine's Day!
Love Songs
There are probably thousands of songs with love as the primary theme in English alone!  Love is a major theme in the national music of every nation! 
Love songs often have a bittersweet tone to them as in "I do it for you" by Bryan Adams.
Love songs can have a more joyous tone as in "I just called to say I love you" by Stevie Wonder.
Some love songs can only be described as sophomoric.  The classic in this category is the Beatles' "Love Me Do".
Sometimes a love song can kick start a musical career as in "Your Song" by Elton John.
Sometimes a musical icon will sing a love song that became iconic in its own right as in "Can't Help Falling in Love" by Elvis (no last name needed!).
Great Thinkers Talk Love
We think that you understand the cultural and romantic significance of Valentine's Day.  Everygame Casino Red will try to do our part in making this wonderful day even more memorable!  And speaking about memorable, let's finish with ten great quotes on the subject of love by historically important people!
I have decided to stick to love; hate is too great a burden to bear.—Reverend Dr. Martin Luther King Jr.
At the touch of love, everyone becomes a poet.—Plato
All you need is love.—The Beatles
All you need is love. But a little chocolate now and then doesn't hurt.—Charles M. Schultz
Love loves to love love.—James Joyce
You can't blame gravity for falling in love.—Albert Einstein
Love does not dominate; it cultivates.—Johann Wolfgang von Goethe
Love is composed of a single soul inhabiting two bodies.—Aristotle
The best and most beautiful things in the world cannot be seen nor touched but are felt in the heart.—Helen Keller
Where there is love there is life.—Mahatma Gandhi
Naturally, online casino games pale in comparison to these ten great thinkers!  Yet, our online games do give help and comfort as well as having a calming effect on all of us lovers. 
Get Romantic with some Casino Love
We also find that our mobile gaming platform is great for couples to curl up together on the sofa or in bed gaming together.  It's easy to go from game to game and you can play all of our romantic games on Valentine's Day this year with your Casino Love bonuses!
Also check out our blog for more information about Valentine's Day and Casino Love.
You can always count on Everygame Casino for the finest in online casino gaming!