The wins are in full bloom at Everygame Casino! Visit our blog and learn more about our St. Patrick's promotion Spring Fortune, with $240,000 in total giveaways!
The new season has arrived at Everygame Casino! Winter is almost over, and the first signs of spring are already showing up. And it also means that a new promotion is blossoming. St. Patrick's Day is also coming up, so the magic is already flowing around. Leprechauns, rainbows with pots of gold and fairies are everywhere you look, bringing good luck with them. Join the Spring Fortune casino promotion and win your share of the $240,000 in giveaways.
The Magic of St. Patrick's Day
St. Patrick's Day is celebrated on his death date, but March 17th also coincides with another important event: the Spring Equinox comes a few days later. According to the old Celtic tradition, the Equinox marks not just the end of the cold part of the year, but also the beginning of the light half. And that means it is also time for a new promotion at Everygame Casino.
Magical creatures come out to spread good fortune around. The leprechauns hide their pots of gold at the end of the rainbow, kind fairies help players to score big prizes, and you can find four leaf clovers just about everywhere. Spring is truly a magical season, and it's no different here.
We have also prepared more game suggestions so you can enjoy this promotion to its fullest. Lucky 6 slot is just one of these games tailor-made for the occasion. With lots of good luck symbols such as rainbows, rabbits, four leaf clovers and horseshoes, this game will take you to the proverbial pot of gold at the end of the rainbow. When that happens, you will win a huge payout of 10,000x your bet! Use the free games to maximize your chances.
Moving to another perfect game for the date, Paddy's Lucky Forest is themed around creatures and symbols from Irish folklore. Run around the magical forest inhabited by fairies and leprechauns while chasing big prizes. You can win up to 1,440x your bet, not to mention free spins and instant prizes. The game also has a slippery wild feature and 3 random jackpots available, which can be won at the end of any spin.
How about a classic slot? The ancient magic of Enchanted Garden never fades away. In this fantastic place inhabited by fairies and unicorns, you will have a chance to win an equally fabulous jackpot. The prize is random and can be awarded at the end of any spin. You can also win free games, which come with a 3x multiplier each!
And now, from a classic to one of the newest additions to our gaming portfolio. Lil Red adds a different spin to Little Red Riding Hood. Whenever you score a win, the symbols will morph into new ones, and will continue to do so until no more combinations remain. And every win adds to the prize multiplier, up to 5x! You can also win up to 60 free games to increase your chances even further.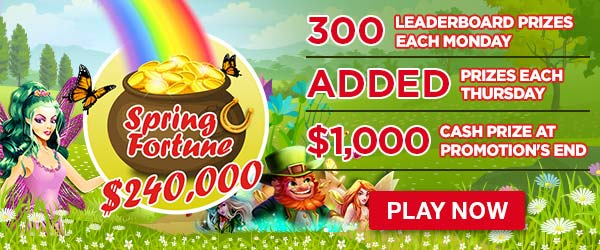 New Wins Coming Into Bloom
Spring Fortune runs from March 7th to May 2nd. In order to let your good luck blossom, you need to qualify for the promo. This is quite simple - all you need to do is deposit a minimum of $75 during the promotion period.
After qualifying, the next step is to start accumulating points. You will get 1 point for every $100 spent on any game of your choice. Pick your favorite and start playing to score. Secure a place inside the top 300 players for the week and you will be eligible for prizes of up to $500 on Monday. Didn't win this time? No worries - spring is still in full bloom. You will get another chance the following week, when the rank resets.
Deposit and play with a minimum of $25 between Monday and Wednesday and qualify for our Thursday draw. We will reward 50 players with sweet bonuses up to $150! Don't forget to check your emails every Monday and Thursday to know if you won!
And even after Spring Fortune comes to an end, it will take a while for the wins to wilt. We will hold one final draw, with the top 20 weekly players qualifying for it. The winner takes home a huge prize of $1,000 in cash!
Welcome a new season of winning at Everygame Casino! Start with coupon LUCKYSPRING1 and enjoy a 100% up to $500 bonus. Afterwards redeem coupon LUCKYSPRING2 to get 50 free spins on Lucky 6.*
* The bonus offers are valid until March 31st, 2022.
* The minimum deposit amount to qualify for the 100% bonus is USD 20. The maximum bonus amount is USD 500.
* The offers must be redeemed in consecutive order.
* Free spins are only valid for Lucky 6.
* Any winnings from the free spins are subject to a playthrough of 60x.
* Standard wagering requirements apply for the deposit bonus.
* Please note: Terms and Conditions apply.