Ready for an extra lucky on St. Paddy's? You won't need a four-leaf clover or anything else to grab the pot of gold in the Paddy's Lucky Forest slot game at Everygame Casino.
This game will take you on a magic adventure filled with leprechauns, fairies and 720 ways to win! But that's just a small part of what this magic journey has in store for you!
There is a lot of talk about leprechauns and luck, but did you know that these two weren't always related to one another? In fact, it used to be quite the opposite. While the modern leprechaun is often associated with good luck wears green, looks like a small, bearded and wrinkled elf, its classic image is quite different. Leprechauns were mischievous fairies, wore red and had nothing to do with bringing good luck. The modern leprechaun image is quite recent, dating back to the late 19th century Celtic culture revival. Since then, it has become closely tied to Irish culture, adopting the classic Irish green and carrying a four-leaf clover or shamrock along with a pot of gold.
The Paddy's Lucky Forest slot offers you a chance to win at the end of any round, even if you don't land on a winning combination. It has 3 random progressive jackpots - major, minor and mini - that can be triggered at any moment during the base game. A big banner will pop up on the screen announcing your win, so keep an eye out for it! Paddy's Lucky Forest also pays some big wins outside the progressive jackpot, up to 1,440x your bet. One way or the other, you will walk away carrying a pot of gold!
The Paddy's Lucky Forest game is available at Everygame Casino in our Mobile Casino or on Download and Instant Play.
Players who enjoy the Paddy's Lucky Forest slot game recommend: Lucky 6, Magic Mushroom, Mardi Gras Magic, Stardust, Enchanted Garden and Enchanted Garden 2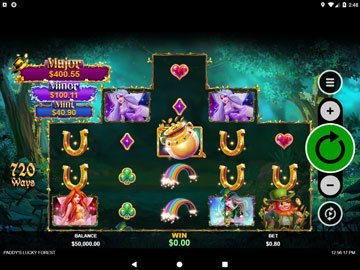 Find your pot of gold in our Paddy's Lucky Forest slot
3 Random Jackpots
1,440x top award
Pick Bonus and Slippery Wild features
You should also keep an eye on the golden pot scatter. If 3 scatter symbols appear in reels 2, 3 and 4, they will trigger the Pick Bonus feature. During this special round, you will be presented with three options to choose from. Your pick will then reveal a special bonus. Some of the possible bonuses include 15 free spins and instant prizes, up to 50x your bet! In some cases, the bonus will also reward you with an additional pick, which can reveal additional free spins or instant prizes.
If the golden clover wild shows up on reels 2, 3 or 4, it will trigger the Slippery Wild feature. During these rounds, the Wild will cover a position on the board. At the end of each round, the wild symbol will move down one position on the reel, covering the symbol below.
This happens at the end of the spin, but before the pay is awarded, which means that you can still win even if the reels don't land on a winning combination! The Slippery Wild feature continues until the wild disappears after reaching the bottom of the reel. If you trigger the Slippery Wild during a free spin, then the rounds played during the feature will not count towards your free games, and therefore won't decrease the spins!
Feeling extra lucky? Then come grab your pot of gold filled with big wins in Paddy's Lucky Forest at Everygame Casino!