Sorry to disappoint you, but Everygame Casino won't offer any new bonuses for its players. April Fools! There is simply no way something like that would happen. In fact, we actually have an April Fools' Day casino bonus ready and waiting for you to claim it!
No pranks here - both the bonus and your wins are definitely the real deal. How about some fun trivia about this date? Of course, you will find your special April Fools bonus at the end of the post. Join us to learn a bit more about it!
The Origin of April Fools' Day
No one really knows when or why April Fools' Day traditions began. There are many different theories and stories that try to explain it, however. The most common one dates all the way back to the 16th century in France. In 1564, the Edict of Roussillon decreed that the new year would begin on January 1st, and no longer on Easter. Despite this, some people refused to accept the change and continued to celebrate the new year in late March. They were then referred to as poisson d'avril (literally "April's fish") by those who had adopted the new January 1st celebrations.
First of all, let's talk about leprechauns. The word descends from the Old Irish language, and means something along the lines of "little corpse". Leprechauns are small fairies, and were most likely based on the "little people" from the ancient tribes of Ireland. According to Irish mythology, the leprechaun isn't the charismatic bearded fellow dressed in green we commonly imagine.
Some historians dispute this claim, arguing that April Fools' Day celebrations predate the Edict of Roussillon. Hilaria, an ancient Roman festival celebrated on the March equinox to honor the goddess Cybele, is often connected to April Fools. During the celebration, people would usually dress up, imitate prominent Roman citizens and play pranks on unsuspecting individuals.
No matter how it began, we all agree that pulling off the perfect April Fools prank is no easy feat. In 1957, BBC pulled off what many consider the greatest April Fools' Day prank ever. The famous TV show "Panorama" aired a three-minute segment about a record-setting spaghetti harvest in Switzerland. The report featured detailed information about "spaghetti trees" and how the Swiss had managed to eliminate the dreaded "spaghetti weevil".
Since spaghetti wasn't well-known in Great Britain back then, the fake segment successfully fooled thousands of people. Over the next few days, BBC was flooded with calls from its viewers, who were asking for more information on how to properly cultivate spaghetti trees.
On the other hand, relevant news and announcements on April Fools' Day often get mistaken for fake stories. Google, which is well-known for pulling off some rather elaborate pranks, announced Gmail on April Fools' Day in 2004. The size of its email inbox, which was 250 times bigger than its closest competitor, had people questioning its authenticity.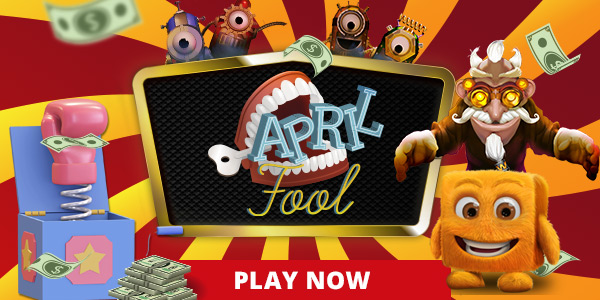 A Very Real April Fools' Bonus
At Everygame Casino, there are no April Fools' Day pranks when it comes to offering bonuses. And we even have some great game recommendations for the occasion! Fairies are well-known pranksters in mythology. But in Magic Mushroom, these small creatures are actually very helpful! This slot comes with a respins feature in which the wild symbol will remain locked on the middle reel, increasing your chances of winning.
The famous genie of the lamp is based on the mythical jinn - mischievous supernatural entities which also love to fool people and pull pranks. But Everygame's jinns are the benevolent kind, which prefer to grant wishes instead. In 5 Wishes, you can win up to 100 free spins as well as 2 random jackpots!
And now, since you've made it to the end of this blog post, we have something special ready! Enjoy coupon APRILBLOG and play with 150% up to $5,000 to strike it rich, no joke! 
* This bonus offer is valid until April 30th, 2022.
* The minimum deposit amount is USD 20. The maximum bonus amount is USD 5,000.
* Standard wagering requirements apply for the deposit bonus.
* Please note: Terms and Conditions apply.