April 22nd marks a very special celebration - Earth Day. Created back in the US back in 1970, it has now turned into a global event. Our eco-friendly blog provides interesting info, as well as a fresh blog bonus special at Everygame Casino.
Celebrated in over 190 countries every year, Earth Day is also widely regarded as one of the biggest events of the year. Mobilizing millions of people every year, the celebration has brought some important changes and environmental actions. Everygame Casino is also joining in, offering helpful tips on how to help the planet and topping it off with an exclusive Earth Day casino bonus. Join us and learn more about what you can do to contribute.
Helpful Tips and Small Actions to Help the Planet
It's no exaggeration to say that every major change starts with small steps. While it may not look like it, even the smallest action can have a big effect in the long run. This is why some simple and easy changes to your daily routine can positively impact the environment.
In fact, that's very much the spirit of Earth Day. Established in 1970 by US Senator Gaylord Nelson and environmental activist Denis Hayes, the very first Earth Day was originally a teach-in on environmental issues. It quickly grew into something much bigger, leading to massive protests and kicking off the drive for large-scale changes.
In order to help you, we have listed some small and simple actions you can take to help protect the planet.
1. Volunteer
If you have some free time, volunteering is always a great way to get started. The official Earth Day website is extremely helpful. Sign up and join an Earth Day volunteer event near you - a cleanups, a protest or a teach-in. Alternatively, you can also join organizations directly involved with Earth Day.
2. Eat Better
Believe it or not, your eating habits also have a big impact on the environment. Avoiding highly or ultra-processed foods is better not only for your health, but also for the planet! This "foodprint" site helps you calculate and understand the impact your eating habits have on the environment.
3. Calculate Your Carbon Footprint
We've all heard about carbon footprints at some point. The average carbon footprint per person in the US is 16 tons, although some studies point out that this number can go as high as 20 tons. For comparison, the acceptable carbon footprint is around 2 tons. How exactly are you supposed to achieve that number? This carbon footprint calculator is a good way to start. Calculate how big your carbon emissions are and learn some helpful tips on how to lower that number.
4. Help Reduce Plastic Pollution
Plastic pollution is a well-known villain, and one of the most important environmental problems we currently face. Reducing - and eliminating - plastic waste is a big challenge. This plastic calculator provided by Earth Day is a good reality check. Reduce plastic consumption, reuse and recycle - these are three small and simple actions you can take to help.
5. Save Energy
This one is great for the environment, and will also help you save some money! Take shorter showers, don't leave your devices plugged in and use household electrical appliances with high energy efficiency. Natural gas and other fossil fuels are responsible for roughly 60% of all electricity generation in the US, making it a large source of emissions.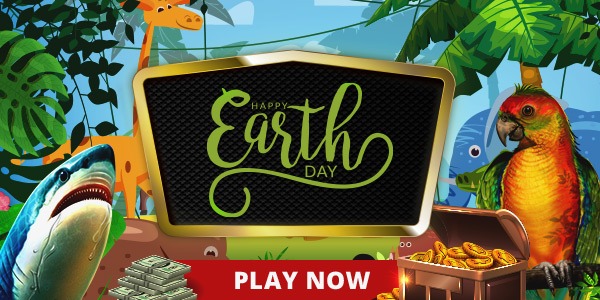 An Earth Day Bonus to Mark the Occasion
The Earth Day celebration at Everygame Casino also has a bonus ready for you. But before that, how about a game recommendation?
This one has everything to do with this date. Panda's Gold puts the adorable bear under the spotlight. The panda is perhaps the poster animal for conservation efforts. Habitat loss and poaching by both locals and foreigners made it into an endangered species. Since the 1960s, a large effort successfully reversed the trend. The panda has since been reclassified as a vulnerable species, and its wild population is also on the rise.
Back to the game itself. In Panda's Gold, you will travel to the mountain ranges of China to meet this adorable bear. Not only that, but you will also have plenty of chances to win big with free spins and prize multipliers.
Celebrate Earth Day now - enjoy coupon EARTHBLOG and play with 150% up to $5,000 + 50 spins for Panda's Gold.
* This bonus offer is valid until May 31st, 2022.
* The minimum deposit amount is USD 20. The maximum bonus amount is USD 5,000.
* Free spins are only valid for Panda's Gold.
* Any winnings from the free spins are subject to a playthrough of 10x.
* Standard wagering requirements apply for the deposit bonus.
* Please note: Terms and Conditions apply.