Be sure to wear flowers in your hair: the new Flower Power promo brings in peace, love and winnings this spring! Check out the blog for more information.
Spring is in full bloom at Everygame Casino! We are spreading the love by offering $120,000 in total giveaways in your Flower Power promotion. You will soon be sowing the seeds of winnings too!
Be Sure to Wear Flowers in Your Hair
Winter is now long gone, and we will soon feel the summer breeze blow. Spring drives away the cold and harsh days, bringing in new life. It makes a lot of sense to celebrate Flower Power during the season of flowers.
The hippie movement is commonly associated with flowers, largely because handing out flowers became a trademark of counterculture protests. It all started in 1965 when the late Allen Ginsberg suggested that protesters should change the image of fear and violence commonly associated with them. And in order to do so, they needed to create some sort of "visual spectacle" by handing out flowers, as well as other objects such as toys, candy bars and instruments. This way, it would be possible to create a different, almost theatrical image, which in turn would draw more attention to their cause.
Flower Power soon became synonymous with the hippie and counterculture movements. In 1967, during the Summer of Love, the flower children were immortalized in Scott McKenzie's song "San Francisco", which was composed to promote the festival.
Now, it's time to join the Flower Power at Everygame. First, let's start things off with some game recommendations.
Thai Emerald is one of the freshest additions to our evergreen game portfolio. If you want to enjoy some of the finest national treasures, then this slot is a great pick. Set in Thailand, this game will introduce you to some of its wonders, which do include beautiful flowers as well. You will have plenty of chances to score wins with the mystery stacked symbols, which can morph into other symbols and also trigger free spins!
Moving on to the next slot recommendation, we have Gods of Nature. This game, which draws inspiration from the rich Chinese culture, will keep you in touch with the five elements: water, fire, wood, earth and metal. If the Gods of Nature are on your side, then you will definitely score big: this game offers up to 33 free spins with prize multipliers along with a wild symbol that will double your winnings!
Our third recommendation is a true classic and favorite among Everygame Casino players - Enchanted Garden II. The fairy princess will bless you with her magic, offering two different features. In the firefly feature, you will get free spins with 3x prize multipliers. And in the fairy queen feature, you will get an enhanced version with additional wilds!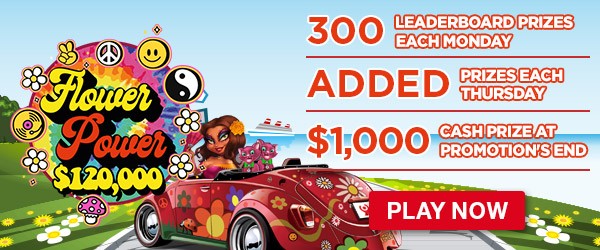 Let the Prizes Bloom
The flowers will take a while to wilt - but you better take care not to miss out. Our Flower Power promotion runs from May 2nd to May 30th.
In order to participate, you need to sow your seeds first. Deposit a minimum of $75 during the promotion period and you are in. Now, you need to water your seeds and watch them grow. Pick your favorite game and accumulate points: you will get 1 point for every $100 spent on the same game. Players inside the top 300 for the week will qualify for prizes of up to $500 on Monday. Don't feel disappointed if your seeds don't germinate right away - the rank resets every week, which means you won't lack chances to win.
By depositing and playing with a minimum of $25 between Monday and Wednesday, you will qualify for the Thursday draw. A total of 50 players will be rewarded with bonuses up to $150! Don't forget to check your emails every Monday and Thursday to know if you won!
At the end of the promo, the top 20 weekly players get to take part in one final draw. Make sure to give your seeds plenty of love and care, as the winner will watch their hard work blossom into a beautiful prize of $1,000 in cash! If you are coming to Everygame Casino, be sure to wear some flowers in your hair!
Let the prizes bloom at Everygame Casino! Start with coupon FLOWERPOWER1 and enjoy a 100% up to $500 bonus. Afterwards redeem coupon FLOWERPOWER2 to get 50 free spins on Gods of Nature.*
* The bonus offers are valid until May 31st, 2022.
* The minimum deposit amount to qualify for the 100% bonus is USD 20. The maximum bonus amount is USD 500.
* The offers must be redeemed in consecutive order.
* Free spins are only valid for Gods of Nature.
* Any winnings from the free spins are subject to a playthrough of 60x.
* Standard wagering requirements apply for the deposit bonus.
* Please note: Terms and Conditions apply.