We are setting off on an expedition this time. Discover the hidden gold in our Sunken Treasure promotion at Everygame Casino! Check out the blog for more information.
Legends say that there is a huge underwater treasure waiting to be claimed at Everygame Casino. And after countless expeditions, we have finally found it - and it's all up for grabs! Join the new Sunken Treasure casino promotion, with a total of $150,000 in giveaways. You certainly don't want to miss out on your share, do you?
Sunken Treasures - Between Legends and Reality
Underwater treasure hunting started out as a hobby in the 1950s among scuba divers. But with tens of thousands of sunken shipwrecks waiting to be found, each containing a large fortune, it soon turned into a fairly lucrative business. The famous Flota de Indias, a Spanish treasure fleet, draws the most interest. These ships usually carried gold, silver and precious stones from Spanish colonies in South and Central America. Around 8,000 ships from the Spanish treasure fleet sunk during that period. Overall, more than 100,000 ships met their demise in the Atlantic Ocean. It's fair to imagine that the Atlantic has more than a few trillion dollars in underwater treasures.
Among them is the so-called Holy Grail of Shipwrecks - the San José, a Spanish galleon sunk in 1708 during a battle against a British squadron. The San José had a 600-men crew, and 64 cannons, and was capable of carrying 1,200 tons of cargo. When it sank, the galleon had on board a significant quantity of gold and silver from mines in Bolivia and Peru.
After a few hundred years, the San José wreckage was located in 2015 by the Woods Hole Oceanographic Institution, working in partnership with the Colombian government. It naturally led to a dispute for the treasure, with Colombia, Spain and Bolivia all laying claim to the San José. Its cargo is worth something between $14 and $17 billion. The shipwreck's location is still unknown, as Colombian authorities have classified it as a state secret.
Do you feel like exploring some underwater secrets? Then let's get started with the game recommendations. In Scuba Fishing, you will be searching for an underwater treasure worth 7,500x your bet. Make use of the free spins feature to make sure you grab the prize!
Speaking of underwater secrets, the mermaid is probably one of the most famous mythological creatures from the deep sea. In Mermaid's Pearls, you will have a chance to finally meet one of them. And she is also quite generous, adding free spins with prize multipliers!
Last but not least, how about some more fishing? In Lucky Catch, you will explore the deep sea and meet some of its inhabitants, including sharks, octopuses and turtles. You will reel in some great catches thanks to the bursting wild feature and the free spins!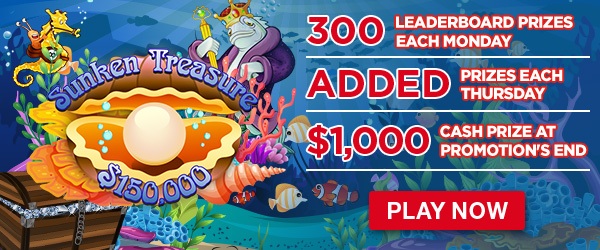 Everygame's Legendary Treasure
Are you ready to explore and look for the lost treasure at Everygame Casino? The Sunken Treasure promotion runs from May 30th to July 4th.
In order to join our expedition, you need to qualify for the promo first, which is very simple. All you need to do is deposit a minimum of $75 during the promotion period and that's it - you are in! The next step is to claim your share of the treasure by accumulating points. You will get 1 point for every $100 spent on any game of your choice.
Place inside the top 300 for the week and you will qualify for prizes of up to $500 on Monday. But even if you come out empty-handed, there is always next time: the rank resets every week and gives you another chance.
There is more where that came from. Deposit and play with at least $25 between Monday and Wednesday to take part in another draw on Thursday, which will reward 50 players with bonuses up to $150. Don't forget to check your emails every Monday and Thursday to know if you won!
And finally, it's time to bring the biggest haul back to the surface. At the end of the promotion, the top 20 weekly players will take part in one final draw. The winner will take home $1,000 in cash!
Get your diving equipment and join the hunt for sunken treasures at Everygame Casino! Start with coupon SUNKENTREASURE1 and enjoy a 100% up to $500 bonus. Afterwards redeem coupon SUNKENTREASURE2 to get 50 free spins on Scuba Fishing.*
* The bonus offers are valid until June 30th, 2022.
* The minimum deposit amount to qualify for the 100% bonus is USD 20. The maximum bonus amount is USD 500.
* The offers must be redeemed in consecutive order.
* Free spins are only valid for Scuba Fishing.
* Any winnings from the free spins are subject to a playthrough of 60x.
* Standard wagering requirements apply for the deposit bonus.
* Please note: Terms and Conditions apply.