It's long been said that in order to better understand our present and future, we first need to study the past. History is said to repeat itself, and it's often true. The epic genre is known for drawing inspiration from famous historical figures and events.

Modern epics have also taken a different approach, including some futuristic sci-fi stories. One way or the other, cinema and literature are filled with memorable epic stories.

Now, it's time to channel your inner Indiana Jones. Everygame Casino will take you on an epic journey through the history of the epic genre. And your own epic journey of winning will continue well beyond that, with an exclusive bonus at the end of the post!

An Epic Through Time
An epic is, by definition, a story focusing on the exceptional deeds of one heroic figure. And, as you can imagine, many heroes have left their mark throughout history.

The Epic of Gilgamesh is considered the first-ever story in this genre. Other famous epics include Homer's Odyssey and Iliad, Apollonius' The Argonaut, Beowulf, Dante's Divine Comedy, John Milton's Paradise Lost, and many others.

In modern fiction, epics usually have one thing in common: they all tend to draw inspiration from historic events. By learning from the past, we can understand what is going on in the present, and it's possible to guess what is going to happen in the future. Some famous epic movies with historical inspiration include Ben-Hur, Lawrence of Arabia, 300, El Cid, Cleopatra, The Fall of the Roman Empire.

Moving from the past to the future, sci-fi movies have also entered the epic territory. Works like 2001: A Space Odyssey and Star Wars completely changed the genre, which was restricted to historical dramas.

Epic movies have changed over time. The early films had massive casts, well into the thousands. Modern epics, on the other hand, use their enormous budgets to create state-of-the-art computer effects.

Which one is your favorite? Would you rather go back in time and live some of the historical events depicted in these epic stories? Or would you rather travel to the future and experience space travelling?

Some say that there is no time like the present, so let's learn from what happened in the past and hopefully use it towards building a much better future!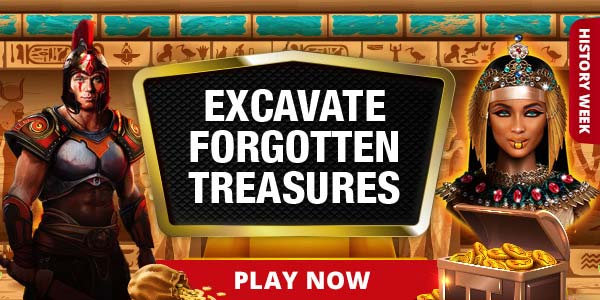 Start Your Own Epic Journey at Everygame
Since we are talking about learning from the past, our game suggestion is Wu Zetian.

Let's go way back in time, let's travel to Medieval China during the famous Tang dynasty. After a difficult and bloody period from the Three Kingdoms to the Northern and Southern dynasties and the short-lived Sui dynasty, the Tang dynasty finally brought stability to the Chinese Empire. For nearly 300 years, from 618 until 907 the Chinese civilization enjoyed significant developments in technology and arts. Wu Zetian was the first - and only - empress of the Chinese Empire.

Part of the previous emperor's harem, Wu Zetian rose to the throne in 683. Under her rule, China enjoyed one of the most prosperous periods in its history, with significant advances in culture, literature and education. While she was often described as cunning and ruthless, Wu Zetian's leadership was also uncontested.

In the Wu Zetian slot, you will increase your empire's wealth by accumulating wins. The game features high payouts up to 50,000x your bet and chances to win 5 free spins.

Use this coupon BLOGEPIC and play with 150% up to $7,000 + 50 spins and enter the fantastic realm of the Wu Zetian.*

Check the Everygame Casino blog regularly for more promotions, bonuses and interesting trivia!
* This bonus offer is valid until June 30th, 2022.
* The minimum deposit amount is USD 20. The maximum bonus amount is USD 7,000.
* Free spins are only valid for Wu Zetian.
* Any winnings from the free spins are subject to a 10x wagering requirement.
* Standard wagering requirements apply for the deposit bonus.
* Please note: Terms and Conditions apply.