It's party time again at Everygame Casino! Read our latest blog post to learn some interesting and fun facts about parties - with another exclusive bonus waiting at the end of the post!
If you love parties as much as we do, then this post will definitely make your day. We absolutely love having some good times with fun people in a friendly environment. For all the party people out there, we have compiled some fun and interesting facts about parties. Do you know why we actually gather to dance, eat, drink and celebrate so often? And how about some of the wildest festivities from thousands of years ago?

Grab yourself a drink and join in on the fun too, because things are just getting started! Join the party at Everygame and claim a special casino bonus at the end of this post.
Fun Party Facts
Why do we party? Yes, we love fun as much as everyone, but have you ever wondered who came up with this idea in the first place? Partying goes a long way back - tens of thousands of years, in fact. Plenty of historians and sociologists believe that partying was actually an important tool in establishing relationships.

Our ancestors would get together and, even with little to nothing in common, we're able to quickly establish a link by dancing and having fun together. Partying was just another form of communicating and expressing feelings, in a much simpler way.

Parties most likely originate from religious gatherings and celebrations. Ancient agricultural societies would usually celebrate a successful harvest season by holding festivities with drinks, food and dancing.

Let's fast forward a few thousand years: the Romans were known for some pretty wild parties. The Bacchanalia, private parties in honor of the wine god Bacchus, would make modern parties look really tame. These festivals, held by a secret religious cult, had just about everything you can imagine: loud music, dancing, animal sacrifices, feasting, drinking and orgies. Naturally, when the cult's practices came to light, it absolutely scandalized Roman society.

Speaking of crazy parties, can you guess how much the most expensive party ever thrown cost? In 1971, Iran's Mohammad Reza Pahlavi celebrated the Persian dynasty's 2,500th year by inviting heads of state, businessmen and other rich figures from over 60 different countries. The three-day festivities included military parades, lots of food and drinks, a five-hour banket for over 600 guests and even a Tent City built in the middle of the desert. At the time, the celebrations cost between $15 and $20 million - something around $635 million in today's currency.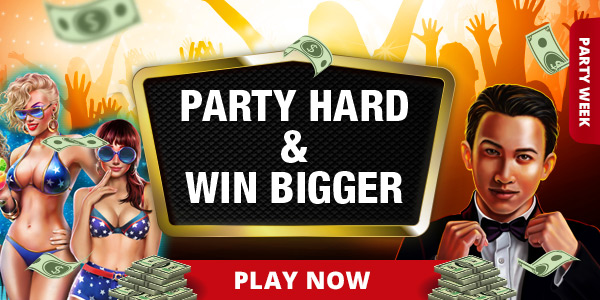 The Party Continues at Everygame
Since we are talking about parties, our game recommendation this time is Samba Sunset. This popular slot will take you to the heart of one of the globe's most famous festivities - Rio Carnival.

Did you know that Rio Carnival is the largest street party in the world? With over 2 million people in attendance per day, the festivities happen everywhere around the city with street parades, called blocos. Cordão da Bola Preta, Rio's oldest parade, also holds the world record for the largest street parade ever held, with 2 million people participating in 2012. The samba schools parade has been held since the 1930s. Every year, the parades take place in the sambadrome, with samba schools from five different divisions taking part - each one having around 3,000 dancers.

In Samba Sunset, you will have a chance to enjoy this unique celebration while scoring some big wins. Take your chance and go wild in the Rio Carnival at Everygame. Samba Sunset has random local jackpots, which can be awarded at the end of every spin, and a free game feature which awards you with 10 extra games.

Enjoy Samba Sunset with this coupon BLOGPARTY2022 and play with 150% up to $8,000 + 60 spins to party hard and win even bigger.*

Check the Everygame Casino blog regularly for more promotions, bonuses and fun stories!
* This bonus offer is valid until July 3rd, 2022.
* The minimum deposit amount is USD 20. The maximum bonus amount is USD 8,000.
* Free spins are only valid for Samba Sunset.
* Any winnings from the free spins are subject to a 10x wagering requirement.
* Standard wagering requirements apply for the deposit bonus.
* Please note: Terms and Conditions apply.