Let's get summer started the right way - by throwing a beach party! Read our latest blog post and learn more about the new Beach Party promo at Everygame Casino, with $270,000 in prizes!
Summer is here. And the best way to celebrate is by throwing a huge beach party, of course! You are invited to join in on the fun at Everygame Casino. Let's get our summer-long fun started with the Beach Party promotion, which offers a total of $270,000 in giveaways! Sink your feet into the sand, grab a drink and some food - and play your favorite games, of course. Let's make the most of the sunny weather and enjoy this party right until the end!
The Sun, the Sound of the Ocean - and Games!
Nothing screams summer more than a beach party. And the best part is that there are no rules for it. You can throw a small party with friends, but you can also go all-out with a big bachelor party. Anything goes, as long as you get to have some fun at the beach with friends and family.
Speaking of which, what is your favorite beach party? Do you prefer a Luau party, in proper Hawaiian style? Maybe something a bit more simple, simply getting people together to talk, eat and drink while watching the ocean? But if you prefer the big crowds, then a beach festival with hundreds or even thousands of people probably sounds like the best idea.
Well, we've got some great news for you. Everygame's beach party has a bit of everything, and our game suggestions show that.
If you like Hawaiian-themed parties, then you better have an aloha shirt, ukulele and flower necklace ready. In Wild Hog Luau, you will be piling one win after another. All reels spin independently, creating more room for combinations. And everytime you land on a winning one, the symbols will remain in place and trigger a re-spin. You can also win up to 50 free games, so break out your hula moves to celebrate!
But if you prefer a big beach party with everything you can imagine and perhaps a bit more, then check out Miami Jackpots. In proper Miami-style, you can score a quick hit and flashy jackpot win, which is multiplied by the total bet and then added to the line wins. This slot also comes with lots of free games, allowing you to pick between four different options. You can take more free spins with smaller multipliers, or go for the high risk, high reward play with bigger multipliers and fewer spins.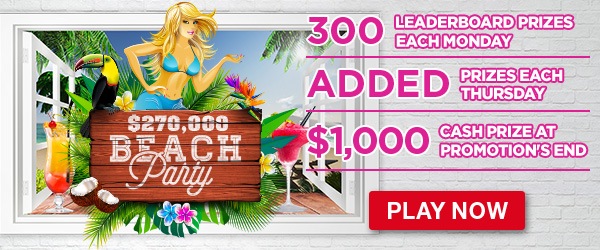 A Beach Party Like No Other
Everygame's Beach Party promotion runs from July 4th to September 5th. First things first, you need to get to the beach. Deposit a minimum of $75 during the promotion period to join the party!
Now that you are already in, it's time to start having fun. Accumulate points by playing games. You will get 1 point for every $100 you play on any game. The choice is up to you, so pick your favorite and don't waste any time - start earning points right away!
If you accumulate enough points to place inside the top 300 for the week, then you will qualify for prizes of up to $500 on Monday. Even if you miss out, there is no need to worry: the rank resets every week, which means that there will be no shortage of chances to win.
If you deposit and play with a minimum of $25 between Monday and Wednesday then you will become eligible for our Thursday draw. This time, a total of 50 players will be awarded with bonuses up to $150. Don't forget to check your emails every Monday and Thursday to know if you won!
Before the party ends, we have one final summer surprise in store for you. The top 20 weekly players get to take part in one final draw, which will award the winner a total of $1,000 in cash!
Are you ready to make some unforgettable memories this summer? Then come and join the beach party at Everygame Casino! Start with coupon 1BEACHPARTY and enjoy a 100% up to $500 bonus. Afterwards redeem coupon 2BEACHPARTY to get 50 free spins on Wild Hog Luau.*
* The bonus offers are valid until July 31st, 2022.
* The minimum deposit amount to qualify for the 100% bonus is USD 20. The maximum bonus amount is USD 500.
* The offers must be redeemed in consecutive order.
* Free spins are only valid for Wild Hog Luau.
* Any winnings from the free spins are subject to a playthrough of 60x.
* Standard wagering requirements apply for the deposit bonus.
* Please note: Terms and Conditions apply.