Join the fun in our Oktoberfest casino promotion at Everygame Casino! Read our latest blog post and learn more about our Oktoberfest promo, with a total of $120,000 in giveaways!
Summer is coming to an end, but the festivities never stop at Everygame! This is a celebration like no other. Grab a beer and join in on the fun with your favorite games in our Oktoberfest promotion!
History of the Oktoberfest
Bavarians really know how to throw a party, and the Oktoberfest is proof. The early autumn festivity runs for an impressive 17 days until the start of October. The Oktoberfest has been around for over 200 years, and it keeps growing one edition after another.
It all started back in 1810 when then Bavarian Crown Prince Ludwig (later King Ludwig I) married Princess Therese of Saxony-Hildburghausen. In order to celebrate their union, the royal family decided to host an enormous celebration in front of their palace, concluding with a horse race.
All citizens of Munich were invited to attend the festivities. The fields were eventually named Theresienwiese to honor the princess. And well over 200 years later, the 4,500,000 sq ft fairground continues to host the event.
Since the wedding celebrations were incredibly successful, there was an increasingly popular demand to repeat the festivities a year later. And so the Bavarian agricultural association took it upon themselves to organize the event again in 1811, which started the tradition of the annual Oktoberfest. The festival eventually grew into its own event. The annual horse race was last held in 1960, while the agricultural fair takes place once every four years.
Initially, the event was held for 16 days until the first Sunday in October. Following a change in 1994, the event now usually runs until October 3rd (or until the first Sunday in October, whatever is later) to celebrate the 1990 German reunification.
Oktoberfest is the biggest beer festival in the world, drawing in an average of 6.5 million visitors every year. During its 175th anniversary, in 1985, Oktoberfest set a record with 7.1 million visitors. As far as beer consumption goes, the record belongs to the 1910 edition with an impressive 40.5 million ounces! That naturally requires a lot of work, and Oktoberfest waitresses are skilled enough to carry up to 18 beer mugs in one go.
There are 14 large beer tents and several smaller ones. Paulaner Festzelt is the biggest, with a capacity of 10,900 seats. Schottenhamel, meanwhile, is the most famous and most important tent -and where the traditional tapping of the first barrel marks the Oktoberfest opening. Since 1950, the mayor of Munich signals the start of the festival by opening the barrel and shouting "O'zapft is!"
How about some game recommendations to enjoy Everygame's Oktoberfest? Our first one is Small Fortune. This classic slot is a great pick if you want to enjoy a picnic with tasty food (to feast just like at Oktoberfest). And it gets even better with two jackpots thrown into the mix, plus free spins with prize multipliers!
The second recommendation is Builder Beaver. Putting up a festival this massive requires a lot of effort and coordination, something beavers excel at. This slot also has two jackpot prizes up for grabs, plus free spins with multiplying wilds!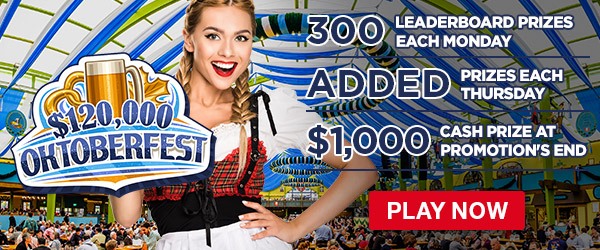 Grab a Beer and Celebrate at Everygame!
The Everygame Oktoberfest casino promotion runs from September 5th to October 3rd. But before drinking your first beer mug, don't forget to sign up for the festivities! That's really simple - deposit a minimum of $75 and you are in!
Then, accumulate points by playing your favorite games. You will get 1 point for every $100 spent on any game of your choice, so play to your heart's content!
If you secure a spot in the weekly top 300, then you will qualify for prizes of up to $500 on Monday. And there is plenty for everyone. If you end up missing out on the first serving, just keep coming back - the rank resets every week, so there is always the next time.
And there is more coming up. Deposit and play with at least $25 from Monday to Wednesday and you will become eligible for our Thursday draw, which rewards 50 players with bonuses up to $150. Don't forget to check your emails every Monday and Thursday to know if you won!
Before we empty the last barrel, there is one more prize waiting. Our top 20 weekly players in the promotion qualify for the long-awaited final draw, which has a massive prize of $1,000 in cash up for grabs!
Join the Oktoberfest fun at Everygame Casino! Start with coupon OKTOBERFEST1 and enjoy a 100% up to $500 bonus. Afterwards redeem coupon OKTOBERFEST2 to get 50 free spins on Small Fortune. Prost!
* The bonus offers are valid until September 30th, 2022.
* The minimum deposit amount to qualify for the 100% bonus is USD 20. The maximum bonus amount is USD 500.
* The offers must be redeemed in consecutive order.
* Free spins are only valid for Small Fortune.
* Any winnings from the free spins are subject to a playthrough of 60x.
* Standard wagering requirements apply for the deposit bonus.
* Please note: Terms and Conditions apply.