Looking for some fun this Halloween? Then visit the blog and learn more about the Haunted Castle casino promotion, which offers a total of $150,000 in prizes at Everygame Casino!
Welcome to Everygame's Haunted Castle! Legends say that generous spirits wander these very halls, offering bonuses to those who dare enter the place… Do you have the courage? If you do, then waste no time and come enjoy some nice Halloween fun with us - and maybe have a scare or two. Believe it or not, the Haunted Castle casino promotion at Everygame has $150,000 up for grabs!
The Scariest Haunted Castles Around the World
Before we enter Everygame's Haunted Castle, let's learn about famous haunted places.
Chateau de Brissac is considered a historic monument by the French Ministry of Culture. It is said to be haunted by "la Dame Verte", or the Green Lady. According to legend, the Green Lady's true identity is Charlotte de Brézé, the illegitimate daughter of King Charles VII. Charlotte was murdered by her husband in 1477. Her ghost takes the form of a woman dressed in green, with holes for the eyes and nose.
Corvin Castle, in Romania, is also home to otherworldly inhabitants. Those include the Capistrano Tower Monk and three Turkish prisoners from the 16th century. Its most famous ghost, however, is none other than Count Dracula himself: Vlad Tepes, the man who inspired Bram Stoker's popular vampire, was imprisoned inside Corvin Castle during the 15th century and went mad in there. Some say that his spirit now haunts the place.
But it's hard to beat Leap Castle in Ireland. Widely regarded as the world's most haunted castle, the Leap was built in the 13th century and owned by the violent O'Carroll clan from the 15th until the 17th century. It has a long list of scary residents.
The O'Carroll Priest haunts the castle's chapel, where he was murdered by his own brother in 1532. Emily & Charlotte are two young girls who haunt the main hall. Emily died in a brutal accident at the age of 11, and Charlotte continues to chase after her sister. The Red Lady, a woman who was kidnapped and brutally tortured by the O'Carrolls, is a tall and menacing ghost seen carrying a dagger. But the Leap's scariest resident is the Elemental, or simply "It": a small, hunched creature the size of a sheep with decomposing flesh, dark holes in place of both eyes and a strong rotting smell.
According to the old Celtic legends about Halloween, this is the time of the year when the veil separating our realm from the world of the dead is briefly lifted. Better avoid visiting any haunted places on Halloween - unless you are actually willing to meet their scary inhabitants face to face…
Are you looking for scary Halloween slots? Then how about some suggestions?
Our first one is Bubble Bubble 3. The third game in the popular Bubble Bubble series features the sexy witch sisters Winni, Wanda and Willow. These helpful witches will cast their magic, bringing free spins, re-spins and the potential to win a Grand Jackpot!
Next up is Witchy Wins. These three benevolent witches offer up to 50 free spins, multiplying wilds and reels fully covered with wild symbols! Make the best use of these features and win up to 10,000x your bet.
Check out Voodoo Magic as well. This slot offers 25 free games with prize multipliers, each adding 1x to the count. A win during the 25th and final free spin will pay out 25x your bet!
And since we mentioned Dracula, how about meeting Count Spectacular? Everygame's resident vampire offers 12 free spins with 3x prize multipliers and re-spins with wilds locked in place!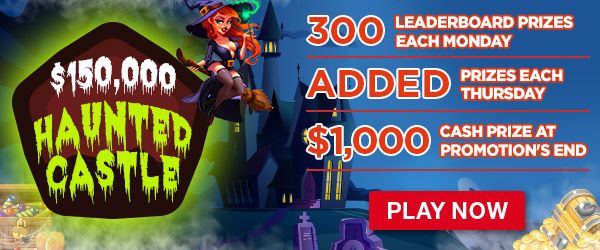 Entering Everygame's Haunted Castle
And now, let's tour our own Haunted Castle. The promotion runs from October 3rd to November 7th. Deposit a minimum of $75 during the promotion period in order to qualify.
Next, you need to accumulate points. You will earn 1 point for every $100 wagered on any game of your choice. That's it - nothing supernatural about it!
Legends say that players who secure a spot in the weekly top 300, will qualify for prizes of up to $500 on Monday. Even if you lose, there is no reason to feel sad: the rank resets every week, offering another chance to win.
A page from an ancient book inside the haunted library tells the tale of another giveaway. Those who deposit and play with a minimum of $25 from Monday to Wednesday are eligible for a Thursday draw. A total of 50 lucky souls will be rewarded with bonuses up to $150.
But the most famous legend from our Haunted Castle promo is "The Final Draw". We will gather the top 20 weekly players at the end of the promotion period to hold a draw, which will reward one lucky soul with $1,000 in cash!
Enter our Haunted Castle at Everygame Casino! Start with coupon 1HAUNTED and enjoy a 100% up to $1,000 bonus. Afterwards redeem coupon 2HAUNTED to get 50 free spins on Witchy Wins.
* The bonus offers are valid until October 31st, 2022.
* The minimum deposit amount to qualify for the 100% bonus is USD 20. The maximum bonus amount is USD 1,000.
* The offers must be redeemed in consecutive order.
* Free spins are only valid for Witchy Wins.
* Any winnings from the free spins are subject to a playthrough of 60x.
* Standard wagering requirements apply for the deposit bonus.
* Please note: Terms and Conditions apply.