Halloween is coming, and the preparations at Everygame Casino are already at full steam. We have prepared a three-part House of Horror promotion, with plenty of fun facts and, of course, lots of bonuses!
For part 1, we bring you the story behind the late October festivities and an exclusive Halloween casino bonus.
Do You Dare? The Origins of Halloween…
The roots of modern Halloween celebrations go a long way back. It all began with the Samhain, the biggest and most important of the four Celtic seasonal festivals (the other three being Imbolc, Beltaine and Lughnasa). Following the end of the harvest season, the Celts had to prepare for the coldest days of winter. In that context, Samhain marked the start of the "dark half of the year".

The festivities lasted three days and three nights, from October 31 to November 2. During this time, the veil separating the world of the living from the world of the dead was briefly lifted, allowing all sorts of spirits to wander from one place to another. While it allowed good spirits to do their deeds, it also meant that the evil ones were free to do as they pleased.

Wearing costumes was a common way of warding evil spirits away. During Samhain, masks, animal skulls and skins worked out as the perfect disguise to avoid being recognized by ill-intentioned spirits. Among those Samhain evil spirits were Lady Gwin, a headless woman dressed in white accompanied by a black pig, and Dullahan, the famous headless horseman.

The Celtic territory was eventually conquered by the Roman Empire, and the old pagan celebrations were incorporated and mixed with other Christian traditions. During the 10th century, the Church moved All Hallows' Day from May 13 to November 1, and then made November 2 All Souls' Day.

However, Samhain continued to influence these celebrations. All-Hallows' Eve, which traditionally marked the start of Samhain festivities, would later become our modern Halloween.

And what about trick-or-treating? Believe it or not, trick-or-treating goes all the way back to the Middle Ages. People would go from house to house asking for soul cakes during the All Hallows' Day and All Souls' Day celebrations. But it wasn't anywhere near as popular as it is now. Trick-or-treating only became a common practice in the US during the late 1940s.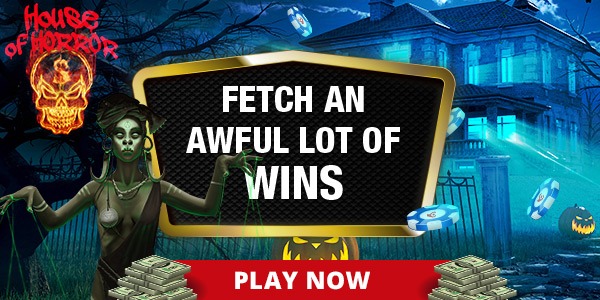 Collect a Haunting Halloween Casino Bonus…
You don't even need to go trick-or-treating to get your Everygame blog exclusive Halloween casino bonus. For the first part of our Halloween promotion, fetch coupon HORRORBLOG1 and enjoy a sweet 150% deposit bonus of up to $3,000 and 30 free spins on Bubble Bubble.

A true Halloween classic, Bubble Bubble is among the most popular slots at Everygame. Bubble Bubble is full of Halloween symbols, including crows, toads, skulls, pumpkins, witch cauldrons and the game's title character, the sexy Winni the Witch. But you don't have to be afraid of meeting this witch on a Halloween night: Winni is actually quite helpful, and will gladly cast her magic to help you out. She acts as the wild, substituting for other symbols to complete a winning combination. Not only that but whenever Winni lands, she proceeds to cover the entire reel while also adding a generous 3x multiplier! And if you land three or more cauldron scatters, Bubble Bubble offers you the option to pick an exclusive feature, with options including expanding wilds, win-win spins and extra free games.

Did you know that Everygame accepts cryptocurrency deposits? We have Bitcoin, Bitcoin Cash and Litecoin available as payment methods. Cryptocurrencies might sound scary if you don't know much about them, but it's quite the opposite. Crypto deposits offer a number of advantages, including a high degree of anonymity for additional safety and reduced transaction fees. Deposit with crypto and claim your Halloween casino bonus at Everygame!

That's it for part 1. Stay tuned for the next two parts of our House of Horror promotion. There are many more Halloween casino bonuses coming your way!
* This bonus offer is valid until October 31st, 2022.
* The minimum deposit amount is USD 20. The maximum bonus amount is USD 3,000.
* Free spins are only valid for Bubble Bubble.
* Any winnings from the free spins are subject to a 10x wagering requirement.
* Standard wagering requirements apply for the deposit bonus.
* Please note: Terms and Conditions apply.