Witches have long been associated with Halloween. But what most people probably don't know is that not all witches use their powers for wrongdoings. In fact, evil witches are far less common.
Most witchcraft practitioners prefer to use their powers for good - and that's also the case of Everygame's witches. In the second part of our Halloween casino promotion House of Horror, we will tell you a bit more about the history of witchcraft. And then, in the end, we will cast a spell from our grimoire to create an exclusive bonus…
Did You Know? The Secrets of Witchcraft
The supernatural has always been a fascinating topic and is commonly used to explain the unexplainable. Misfortunes were often attributed to witches, who used their spells to bring bad luck to entire communities. This belief led to mass hysteria and the infamous witch hunts from the 14th and 15th centuries. Somewhat ignored, however, is the fact that most witches prefer to use their spells, potions and spiritual powers for good.
There are all sorts of witches and many different ways to practice witchcraft. Wiccans and other pagan witches are probably the best-known nowadays, relying on rituals to influence the forces of nature. Other witches are simply born with magic powers, not needing rituals or anything to channel them. And many witches take their powers from external sources such as stars and planets, crystals, animals and plants.

Witches have a variety of methods to cast their magic, which includes runes, incantations, amulets, talismans and other magical objects, potions, magical circles, and rituals - and that's only to name a few of them. Some witches are also accompanied by a familiar, an imp that takes the form of an animal and acts as a sort of spiritual guide.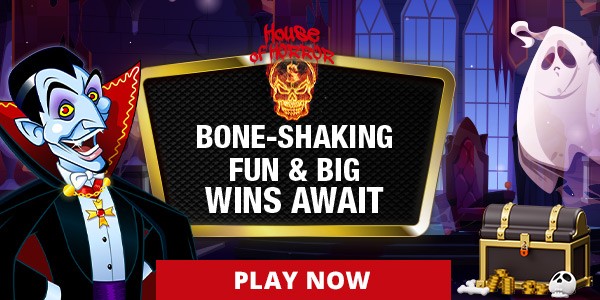 Collect a Haunting Halloween Casino Bonus…
The witches at Everygame's House of Horror are very skilled spellcasters. And what kind of spells can they cast? Well, the kind that can make you score lots and lots of wins!

Let's get started by casting a spell from Everygame's secret grimoire of promotions. In the second part of our House of Horror casino promotion, fetch our blog exclusive coupon HORRORBLOG2 and play with 150% up to $4,000 and 40 free spins on Witchy Wins.

With plenty of magical features, Witchy Wins will cast a spell to bring plenty of incredible prizes. For starters, you can win from 8 up to 50 free games. But that's only a fraction of the witches' power. The trio of helpful witches has also brewed a powerful potion inside their cauldron, which can transform into a morphing wild and add prize multipliers to your wins! And as if that wasn't enough, the witches will also work their magic on random rounds to create Wild Reels, turning all symbols in a reel into wilds. They can even do it to all 5 reels, which could mean an instant win!

We will let you in on another secret from Everygame's grimoire: cryptocurrency deposits. Have you ever given crypto deposits a go? If you haven't already, then there are many reasons why you should try depositing with crypto - including anonymous transactions, additional security and significantly smaller fees. Everygame accepts Bitcoin, Bitcoin Cash and Litecoin payments - all with nice deposit bonuses for you!

The House of Horror Halloween casino promotion isn't over yet. Stay tuned for the third and final part, which also comes with another blog-exclusive bonus!
* This bonus offer is valid until October 31st, 2022.
* The minimum deposit amount is USD 20. The maximum bonus amount is USD 4,000.
* Free spins are only valid for Witchy Wins.
* Any winnings from the free spins are subject to a 10x wagering requirement.
* Standard wagering requirements apply for the deposit bonus.
* Please note: Terms and Conditions apply.