Saint Patrick's Day is right around the corner and we can't help but get excited. This special holiday not only serves a precursor to spring but it also represents freedom and the power of coming together. Celebrate with our bonus special at Everygame Casino!
This is a time filled with smiles, cheers, and a lot of beer. We invite you to get in the lucky spirit with a few spins and our exciting St. Patty's Bonus Special at Everygame Casino. Believe us, this is one you won't want to miss! Read on for some fun facts about the famous Saint Patrick's Day celebration and how we intend on keeping the tradition alive, and maybe even making it better, by offering a out-of-this-world green bonus special!
Beer, Saints & a whole lotta' Money
We're sure you're aware of how big and beloved Saint Patrick's Day is among the English speaking population. It's a celebration that is known under many names including, St.Patty's or St. Paddy's Day, and no matter what city you live in, chances are you or someone you know celebrates this lucky day. As you might expect, St. Patty's Day is not only a huge deal in America and the UK, it is an even bigger deal in Ireland, Saint Patrick's old stomping grounds. This leads us to our first did you know fact, Saint Patrick might have been taken in as the patron saint and representative of the Irish but, he was in fact English!

Paddy's Day is a national holiday in both Ireland and Northern Ireland and believe it or not, it was celebrated very differently a few years back. This holiday has transformed into a day filled with rainbows, leprechauns, pots of gold, and, of course, beer, but that wasn't always the case.
For most of the 20th century, St. Patty's Day was considered a holy holiday in Ireland, this meant that the nation's pubs were closed for business on March 17 with the one exception of beer vendors located in the big national dog show, which was always held on this day.
In 1970, the day was converted to a national holiday, and so the beers resumed their flow into the glasses of happy celebrators. What was once a purely religious holiday, free of alcohol, has now transformed into a day that is celebrated across nations, races, and religions. That's part of what makes it so exciting. Anyone can celebrate anywhere and with a nice cold pint of Guinness! Go and get your gold with our St. Patty's Bonus Special!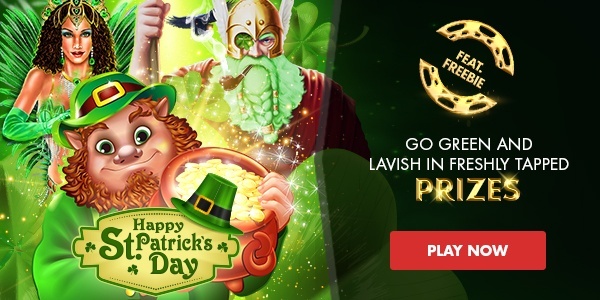 St. Patty's Bonus Special
Going green has never been this fun… or lucrative. We invite you to celebrate the luck of the Irish with our very own lucky bonus deals. Join in on some Leprechaun fun by spinning the reels and seeing where the holiday spirit takes you. Who's to say you're not the next pot of gold winner?! See what this St. Patty's Bonus Special has in store for you!
We have three impressively green offers for you and they're worth a total $1,000! Plus, there's a $25 freebie waiting to be snatched up at the end of our celebrations. In order to reap all these rewards you must play up the Irish theme by using the coupon codes provided. This special allows you to get into the colorful excitement by getting an insane amount of bonuses; it's that simple.
See below for your bonus details, make your deposit and follow the rainbow. Enter the following coupon codes in the "redeem coupon" section of the Everygame Casino cashier before making your deposit:*
| | | |
| --- | --- | --- |
| #1 Deposit | 50% up to $200 + 20 Asgard spins | GREEN1 |
| #2 Deposit | 75% up to $300 + 30 Samba Sunset spins | GREEN2 |
| #3 Deposit | 100% up to $500 + 50 Lucky 6 spins | GREEN3 |
| #4 Extra Bonus | $25 FREEBIE | GREEN4 |
Now, if these bonuses are not lucky, we don't know what is. Look forward to some seriously attractive bonus features in our hit slots, Asgard, Samba Sunset and Lucky 6. Don't miss out on the last freebie bonus of $25 - All you need to do is make your fourth deposit and enter the coupon code, GREEN4, after you've redeemed the previous offers.
* This offer is valid until March 24th, 2019.
* Coupons have to be redeemed in consecutive order.
* The min. deposit amount is USD 20 each.
* Any winnings from the free spins are subject to a playthrough of 10x.
* Standard wagering requirements apply for the deposit bonuses.
* Max. cashout for the extra bonus is USD 200.
* Please note: Terms and Conditions apply.