Thor and Odin are the stars in the Asgard slot at Everygame Casino. Asgard takes you way up north where an all-star team of Norse mythological deities will help you fight your way to legendary riches.
Don't blink for a second in our Asgard game as you're in for a state-of-the-art experience, setting new levels in terms of action and implementation. In the tradition of the latest super popular comic blockbuster installations, you're in for more than just a visual treat.
Four mighty gods of Norse mythology will be at your side to unleash a never before seen storm of big winnings. The game setting is located in the harsh North, a mysterious realm and the land of Vikings. The Vikings are battle-proven bold warriors not afraid of anything, yet they place their trust in their gods. Rightfully so, as the deities help them win battles and in your case a fortune in cash.
In Norse mythology, the gods are believed to live in a clandestine realm, referred to as Asgard and that's right where we're taking you in our Asgard slot. An epic adventure in a mythical realm where once-in-a-lifetime chances to win await you if you dare. With the help of gods such as Odin and Thor it becomes easier to strike it rich and leave the home of the gods with plenty of cash. The presentation of the game is nothing but stunning - once the gods appear, get ready for slick animations and a firework of visuals that transform your screen into a fantastic realm. The soundtrack is a tribute to epic Viking folklore, keeping your heartbeat as high as your winnings.
But the Asgard slot has much more to offer than just a visual masterpiece - expect an epic game that offers legendary winning chances on five reels with 243 All Ways Pays combinations. Asgard offers not only great entertainment but also some of the mightiest bonus features seen to date, after all, it has to live up to the Norse gods.
In the Asgard slot the gods help you strike it rich

Win direction: left to right
243 combinations, All Ways Pays
Mighty bonus features with 6000x your bet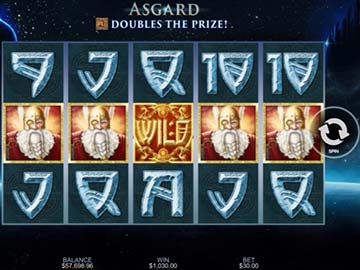 In our Asgard slot, you'll meet four of the most powerful deities in Norse mythology. And the good news is that they're on your side and willing to help you in your pursuit of Nordic riches. Asgard is a mythological realm and was believed to be home to the Norse gods. The four gods you'll meet are sort of a Nordic all-star team. Allfather Odin, who rules over Valhalla, as well as the hammer-wielding Thor, the god of thunder and storm. Loki is the god of tricksters but you have nothing to worry about, as he'll also assist you in gaining a fortune. Freyja is the goddess of love, fertility and gold, she'll certainly use some magic tricks to increase your winnings.
Three or more scatters prompt one of the powerful features. The Asgard slot is packed with bonus features from top to bottom:
In the Goddess feature, Freyja the goddess of fortune and love, casts powerful spells and provides you with up to 15 free games. But that's not all - hereby the prizes are tripled and the feature can be retriggered.
Experience the power of Loki - Loki's Magic feature is unlocked from the 5th trigger onwards. Loki, the god of tricksters, uses his magical powers to cast up to 20 free games. But if that was it, it certainly wouldn't be named after the god of tricksters. In these free games, a WILD is added on reel three, increasing your chances of taking home even more winnings.
Meet the mighty Thor in the thunderous Thunder God feature. This extremely potent feature is unlocked from the 10th trigger onwards. Thor is said to be one of the most powerful Norse gods, known for his indestructible hammer and his giant strength. Hence you'll expect something big from him and he does deliver! He'll help you with a stunning 25 free games with Wild Multipliers added. Just lean back and watch your winnings grow to new heights while you have the chance to retrigger five additional free games.
Odin is referred to as Allfather, meaning he is the mightiest of the mighty - and so is his feature. The Valhalla feature is unlocked from the 15th trigger onwards and provides you with 30 free games with morphing symbols. Winning symbols are morphed after pays are awarded and so provide you with countless opportunities to make even more cash. Meanwhile, a powerful prize multiplier builds up for successive wins from the same original spin. This way you can multiply your initial bet by a godly 6000x.
In addition there's the Thunderbolt feature available. This feature triggers randomly on any normal spin. Up to 5 reels will turn wild before pays are awarded.

Meet the gods of Norse mythology and experience the many riches of Asgard by playing our Asgard slot - available on Download, Instant Play and in the Mobile Casino!
Players who enjoy Asgard also recommend: Storm Lords, Pulsar, Dragon Orb, Cash Bandits 2, Gemtopia, Bubble Bubble 2 and Swindle All The Way