¡Un feliz Cinco de Mayo a todos! That's right - Everygame has prepared a special Cinco de Mayo casino offer to celebrate the occasion. Visit our blog and grab an exclusive bonus. This day marks one of the most significant events in Mexican history - the famous Battle of Puebla.
Learn more about the meaning behind the Cinco de Mayo festivities and how it became a celebration of Mexican culture around the world. No time to waste - Arriba and enjoy a special Cinco de Mayo with us!
The History Behind Cinco de Mayo
Contrary to what some people believe, Cinco de Mayo isn't Mexico's Independence Day - which is actually celebrated on September 16. Cinco de Mayo marks the Battle of Puebla, which took place on May 5, 1862. As part of the French invasion, the battle ended with a highly unlikely victory for the Mexican army.
Despite facing a significant disadvantage in both experience and military equipment, while also being outnumbered 2 to 1, the Mexican army successfully drove off the French troops. The invaders ultimately regrouped and ultimately captured Mexico City, but the victory at Puebla is still remembered until this day.
While Cinco de Mayo celebrations are extremely popular in Puebla for obvious reasons, that's not exactly the case for the rest of the country, and the date isn't actually considered a national holiday. In fact, Cinco de Mayo celebrations are actually far more popular in the US than in Mexico!
But why did Cinco de Mayo grow into such a big event in the US? Sometime after the Battle of Puebla, the news reached the Mexican miners in California, who then went on to party and commemorate the historic victory over the French troops. Since then, the celebrations have become a tradition among the Mexican community in California.
Over the years, Cinco de Mayo traditions spread beyond California, initially among the Mexican-American population in other states. Then, in the 1980s, beer companies created marketing campaigns for Cinco de Mayo, which in turn led to nationwide popularity. Now, the 5th of May is also a date to celebrate Mexican culture not only in the US but also around the world.
Speaking of beer, this has also become a Cinco de Mayo trademark. The holiday's beer sales have surpassed St. Patrick's Day, putting them on par with the Super Bowl. How much beer are we talking about? Super Bowl beer sales rake some $1.2 billion every year - well over 325.5 million gallons! Yes, we are talking about a lot of beer.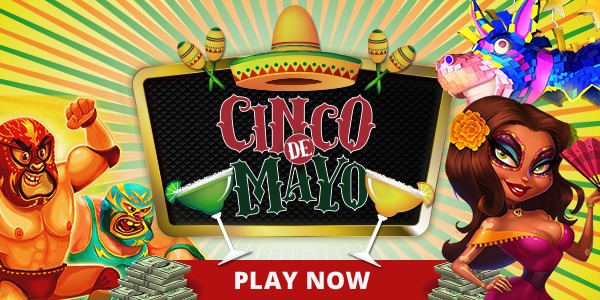 ¡Arriba! Let's Party With a Bonus
Grab some beer, and maybe some tequila too. The Cinco de Mayo party is just getting started at Everygame! We have a very good game suggestion for you to enjoy - and with an incredible bonus to top it off too!
Lucha Libre is a symbol of Mexican culture and was declared intangible cultural heritage of Mexico City in 2018. And what better slot to celebrate Cinco de Mayo other than - you guessed it - Lucha Libre, of course! The famous wrestlers' Taco Malo and Guacamolio will put on a show to help you win big, doubling your prizes whenever they show up on a winning combination. Not only that, but the game also has a free spins feature with prize multipliers. Get ready to rumble with Lucha Libre 2 as well. Put on your mask and get on the ring right away!
And now comes the moment you've been waiting for - your big Cinco de Mayo bonus offer! Login, deposit and claim this spicy special BLOGCINCO and play with 150% up to $5,000 + 50 free spins for Lucha Libre.*
Now let's keep the party going. Score some big wins and make your Cinco de Mayo even better. ¡Buena Suerte!
* This bonus offer is valid until May 31st, 2022.
* The minimum deposit amount is USD 20. The maximum bonus amount is USD 5,000.
* Standard wagering requirements apply for the deposit bonus.
* Free spins are only valid for Lucha Libre.
* Any winnings from the free spins are subject to a 10x wagering requirement.
* Please note: Terms and Conditions apply.