Fight for big prizes! Hear the crowd cheering you frenetically while you make your way to the ring in main event fight in the Lucha Libre 2 slot at Everygame Casino.
Get ready to rumble and show off your coolest finishing moves in our hilarious Lucha Libre 2 slot game. Take professional wrestling, multiply it by 10, add some spice and colors and you'll get what is referred to as "Lucha Libre" in Mexico. This Mexican form of wrestling is characterized by iconic masks and insanely artistic maneuvers.
Wrestlers in Lucha Libre are referred to as luchadores and are incredibly popular. They are held in high esteem and often make a fortune, taking out their opponents. Reason enough to come up with a sequel to the already very popular Lucha Libre slot game. Watch Taco Malo fight against his new competitor Nacho Friend in the Lucha Libre 2 slot.

Get your blood pumping while you make your way to the ring through a packed arena, ready to show off your coolest moves to take home our big prize trophies. The Lucha Libre 2 slot is produced by Realtime Gaming (RTG) who even managed to surpass our high expectations. With its hilarious exotic concept, great graphics and sensational animations, you're in for a state-of-the-art experience! Expect nothing other than superb entertainment with our big prizes up for grabs! While you fly through the air and surpass your opponents, a vibrant Mexican sound adds even more excitement.
 
Become a luchador and fight your way to the top in the Lucha Libre 2 video slot at Everygame Casino.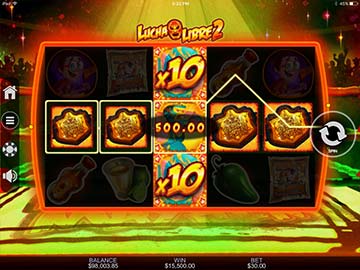 Show off your coolest moves in Lucha Libre 2 slot
win direction left to right
30 paylines
50,000x top award
Warm up and put on your luchador mask, ready to kick butts, entertain and become the highest-paid athlete in Mexican wrestling, playing the Lucha Libre 2 slot game from RTG. A hot ride awaits you with many chances to become a legend of the sport while making tons of cash. We predict that the Lucha Libre 2 slot will become one of our most popular games, not only because of the hilarious, crazily-good theme, but also because of its extremely rewarding bonus structure.
While you fly through the air, delighting the audience and fighting for the winner's trophy, make sure to keep your eyes open for the "scatter" symbol in Lucha Libre 2. The "Mucho Mayhem!" symbol functions as "scatter" and if you happen to trigger three of those, the earth will be trembling below as it's time to rumble! Choose your finishing move and send your opponent to the loser's column with a powerful highlight-reel. Additionally, you'll be rewarded with free games and multiplied prizes for extra style points.
A powerful wrestler counts as "wild" symbol which counts for all other symbols except "scatter" and this is where you can bag the most prize money. Prizes are multiplied and free spins are added for your amazing Lucha Libre performance. Trigger the highly entertaining Fist of Fury feature to send your opponents straight to the canvas. And moreover, grab your well-deserved share of free games.
Experience unparalleled excitement and become the most popular luchadore in the Lucha Libre 2 online slot, available on Download, Instant Play and in the Mobile Casino!
Players who enjoy the Lucha Libre 2 slot also like:
Lucha Libre, Eagle Shadow Fist, Fantasy Mission Force, Zhanshi, Dragon Orb, Kung Fu Rooster, Coyote Cash, Popiñata and Panda Magic