It's finally St. Paddy's! Pour yourself a pint and join us at Everygame Casino to celebrate. Visit our blog and claim an exclusive St. Patrick's Day casino bonus!
Time for one of the world's most popular celebrations! It's St. Patrick's Day, and Everygame is ready to join in on the fun. In order to mark the occasion, we have prepared a blog post telling more about St. Paddy's traditions and fun facts. Of course, there is also a special St. Patrick's Day casino bonus waiting for you at the end of this post.
St. Patrick's Day Traditions and Fun Facts
Most people believe that the first St. Patrick's Day celebration in the US happened in 1737 when the first-ever St. Paddy's parade was held in Boston. But it actually took place well before that. The first St. Patrick's Day in America actually happened in St. Augustine, Florida, back in 1600!
Over time, the Irish Americans established their own, new traditions inspired by some old ones. While many consider corned beef with a side of cabbage the quintessential St. Paddy's dish, it is more of an Irish-American creation. Cabbage is a staple of Irish cuisine, while corned beef was added later by Irish immigrants as an alternative to the more expensive meat cuts.
Of course, we can't really talk about St. Patrick's without pouring a pint. Beer sales skyrocket during this time of the year, going up 150%. But one brand, in particular, enjoys an even greater increase. We are obviously talking about Guinness, which is almost synonymous with St. Paddy's. According to its most recent report, from 2018, Guinness sales go up an astronomical 819% during St. Patrick's Day!
Green is the official St. Patrick's Day color, but did you know it wasn't always the case? St. Patrick was originally associated with blue. Following the rise of Irish nationalism during the 17th century, however, St. Paddy's became associated with green. It drew inspiration from the shamrock, one of Ireland's most famous symbols. According to legend, St. Patrick used the shamrock to explain the Holy Trinity.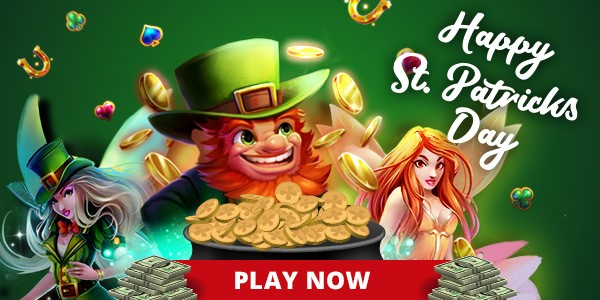 The Bonus at the End of the Rainbow
How about checking out some of our games? We have two suggestions that are simply perfect for the occasion.
The first one is a classic. Lucky 6 will take you to the proverbial pot of gold at the end of the rainbow. This slot is filled with lucky symbols and can reward you with plenty of free spins. Line up multiple rainbow symbols to find the pot of gold and win the top prize of 10,000 coins!
Paddy's Lucky Forest will take you to a magic realm inhabited by creatures from Irish folklore - including, of course, the famous leprechaun. You can win lots of prizes, from free spins to instant payouts, with the exclusive Pick Bonus feature. And there is also the slippery wild, which can form additional winning combinations during regular spins!
Pour yourself a pint and join the St. Patrick's Day fun at Everygame! Claim this exclusive offer with coupon PADDYSBLOG and celebrate with 150% up to $6,000 + 60 free spins on Lucky 6.
* This bonus offer is valid until March 31st, 2023.
* The minimum deposit amount is USD 20. The maximum bonus amount is USD 6,000.
* Free spins are only valid for Lucky 6.
* Any winnings from the free spins are subject to a 10x wagering requirement.
* Standard wagering requirements apply for the deposit bonus.
* Please note: Terms and Conditions apply.