Are you playing our SLG mobile slots on the Everygame Mobile Casino? Now's your chance to try it out! Check out this blog post for the enriching details.
We are proud to continue the good glory with our reputation of "Trust the First" here at Everygame. Have you been playing with us since the beginning? It's been a long road for those of you that have - 20 years, to be exact - and if you've enjoyed our great SLG slots, along with our top-notch bonus promotions, then it may be time to try something a little different. What's that, you wonder? Why not try your luck on Everygame Mobile Casino, where we not only offer all of our most loved SLG mobile slots, but also, a chance to take home your share of $100 in prizes each week! Interested? Then keep reading for all of the winning details!
Our Favorite SLG Mobile Slots
We have to not only give thanks to our players for supporting us so long, but to the folks at SLG for their great mobile games, which is what has kept Everygame the great brand it is today! Even more so, with the many SLG mobile games available, it offers a whole new playing arena for the many gaming enthusiasts who visit us (that's you!). On the way to work? Play on mobile! Bored in the dentist waiting room? Go ahead, visit the Everygame Mobile Casino! You get the picture. Take a look at some of our most adored SLG mobile slots at Everygame Casino and see which one will lead your next gaming expedition: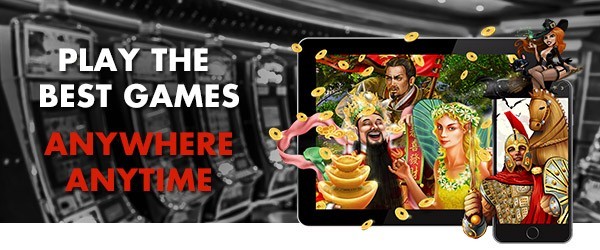 Embrace your inner bandit and start gaming with this eventful mobile slot classic! Land 3+ Scattered Robbers and you'll find yourself face-to-face with the Vault Feature, an exciting mini-game where you can crack open the 5 vaults, revealing future riches
One of our original SLG mobile games, Achilles, has always been a play favorite. Our Greek hero offers some thrilling gameplay with 2 Free Game bonus features, as well as a much anticipated epic jackpot!
Mining for gold is certainly an appropriate slot theme, which is exactly what you'll find in PayDirt! This mobile slot gets the most exciting when you reach the two gold bonus features, Gold Rush! and Gold Fever!, picking up more free games than you can (possibly) handle!
You'll surely understand why this jungle is secret, when you find out this SLG mobile game has an impressive 50,000 fixed jackpot! With free games aplenty and the added up to 10x multiplier, there's no denying why this slot makes the list!
One of our most popular mobile slots, Aladdin's Wishes, really does make dreams come true - If you're lucky, of course. The bonus feature can award you up to 25 free games, or a 100x multiplier, making this no time for child's play.
$100 in Prizes from Everygame Mobile Casino
Now that you know the best of the best of our SLG mobile slots, how can you cash in on this potential opportunity to play on the go, (hopefully) winning each step of the way? We don't like to make you guess, so let us put it for you straight; it's all about playing at the Everygame Mobile Casino! We like to keep up with the times, and it's certain, mobile casino is here to stay. So, what does this mean for you? While our top list of mobile slots is only brief, we have many more available SLG mobile games, right here, waiting for you.
What's more? Each and every Wednesday, we give you a chance to win up to $100 for playing at the Everygame Mobile Casino! How can you do it? To qualify, you must deposit a minimum of $50 and wager a minimum of $500 from your mobile during the chosen week. If you do so, you will then be entered into a Draw, where 20 players are chosen for a cash prize. Check out our promotions page for many other exciting promotions.
Are you ready to make a win with Everygame and SLG, on mobile? Then let's get to it - Today is your day, to play!