Want to know the best online casino games for your zodiac sign? Then check this new post on the Everygame Casino blog and find out your gaming horoscope 2020!
Zodiac signs and Astronomy are a fascinating topic. It's quite amazing to imagine that everything about you is, literally, written in the stars the moment you are born. And to mark the beginning of a new year, we decided to go with something slightly different. This time around, we are going to suggest the best online casino games according to your zodiac sign! Read and find out your gaming horoscope 2020!


What's Your Gaming Horoscope?
1. Aquarius (Jan 20-Feb 18):
Change is the only constant for this sign. Aquarius also loves eccentricity. Well, Cubee is the game you've been looking for. It's a one-of-a-kind slot with unique mechanics and high volatility.
2. Pisces (Feb 19-March 20):
As uniquely as the rest, Pisces has learned everything from the other 11 and shares all their traits, making up one complex individual. In other words, you can play just about any one of our games. So let us recommend you one of the classics - Cleopatra's Gold.
3. Aries (March 21-April 19):
Aries is bold, ambitious, courageous, passionate and enthusiastic. In other words, we think that a high risk, high reward game is right up your alley. Our suggestion is T-Rex II, a very high volatility slot.
4. Taurus (April 20-May 20):
You are strong and dependable, as well as patient and devoted. So we believe that a low volatility slot set in a calm, relaxed environment is perfect for you. Our suggestion for Taurus is Scuba Fishing. Come enjoy a relaxing underwater adventure while you land wins at your own pace!
5. Gemini (May 21-June 20):
You are adaptable and curious, so a slot full of elaborate rules and with high volatility is our pick for you! And since the dolphin fits this description perfectly, we think that Crystal Waters is the right choice for Gemini.
6. Cancer (June 21-July 22):
Now, this sign is considered quite challenging to understand. Cancer can be emotional, sentimental and moody. But you do enjoy calm, tranquility and feel relaxed when there is water nearby. With this in mind, our pick for you is Mermaid's Pearls.
7. Leo (July 23-Aug 22):
You are bold and passionate, with a flair for the dramatic. In other words, you are a go big or go home kind of player. A slot with very high volatility such as Gods of Nature has all the features you are looking for. You are willing to risk, but you are confident enough about the chances to score the big prize.
8. Virgo (Aug 23-Sept 22):
You are an extremely practical, analytical and grounded individual - the kind of player who isn't willing to risk too much. Simple 3-reel, low volatility slots are the best for you. And since Virgo loves everything about nature, Magic Mushroom is a great pick.
9. Libra (Sept 23-Oct 22):
Libra is often the life and soul of a party, and you enjoy being around people. So, a slot with this setting is perfect for you. Check out Shanghai Lights and tell us about your late nights and big wins!
10. Scorpio (Oct 23-Nov 21):
Scorpio is brave, passionate but also stubborn. A slot with a progressive jackpot is the right fit for a Scorpio. You are willing to bang your head against the reels until they land on the big prize. So Megasaur looks like the best possible slot for your driven advantage!
11. Sagittarius (Nov 22-Dec 21):
You are the one who is going to make the impossible into reality. Remember that progressive jackpot everyone is talking about and saying that it's out of reach? Well, it's going to be yours. Aztec's Millions is your game.
12. Capricorn (Dec 22-Jan 19):
Capricorn loves to strategize, with a keen eye for asset management. So, a slot with lots of paylines that allows you to come up with multiple plans is the pick. Secret Jungle is the game for you!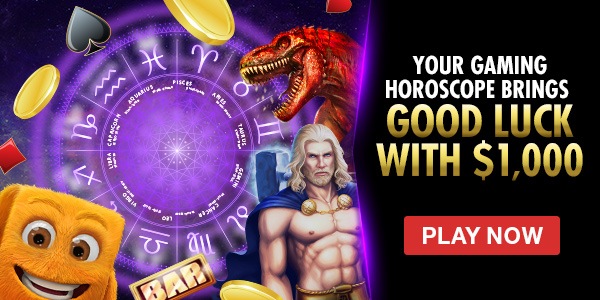 Use Your Gaming Horoscope & Reach Your 2020 Goals
Make your own luck with coupon ZODIAC100 and double your chances with a stellar 100% up to USD 1,000.
* The bonus offer is valid until January 26th, 2020
* The minimum deposit amount to qualify for the 100% bonus is USD 20. The maximum bonus amount is USD 1,000.
* Standard wagering requirements apply for the deposit bonus.
* Please note: Terms and Conditions apply.