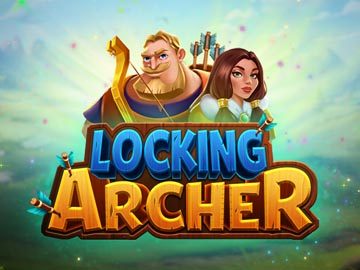 Locking

Archer

Aim for glory and win some amazing prizes in the Locking Archer slot game at Everygame Casino. Time to unleash your inner William Tell and hit the bullseye!
What are the 200 Best Slots at Everygame Casino?
The quick answer is: all of them!
In the world of online casinos, slots make the world go round.  They do that in many ways.  The first of course, is that the reels go round and round and when they stop, there are many exciting ways to win.  But winning, as much fun as it certainly is, is not the only reason so many online gamers love to play slots!
Themes
The first slots were basically all the same: you pulled the arm and started fruit and other symbols spinning around.  There was one payline.  People loved slots even then but people love slots a lot more today.
That's because slots have themes.
The number of themes that are possible in slots is limited to the details of history, the possibilities in outer space, the creatures that live in the ocean depths, holidays, and the way people are in general.
In other words, there is no limit to the number of themes possible in slots!
Does Everygame have Slots with Many Themes?
You bet we do!  Here are a few samples:
If you like to travel back in time, Everygame has slots based on Aztec and Inca civilization, ancient Greece, and the Roman Empire.
If you like slots that feature dragons and themes about China, Everygame has about a dozen great selections!
If you like slots about big fish, Everygame has slots about whales, dolphins, and sharks.
If you like slots about summertime fun, we have that area covered!
Do you like slots about ancient mythology?  Everygame has a large selection of these slots too.
We have a nice selection of slots with Christmas themes.  The most popular is naturally called Naughty and Nice!
In fact, the list goes on and on.  Gamers at Everygame love to play many different themes in the same gaming session because, unlike at a land based casino, at Everygame you can play all our games from the comfort of your desktop seat or from the greater comfort of a soft sofa if you're playing on our mobile platform.
Are There Other Unique Aspects to Modern Slots?
Indeed, there are!
Slots have wild symbols.  They have symbols, called scatters, that take you to the free spins bonus rounds.
Slots also have exciting and thrilling ways to use these special symbols.  The wild symbols sometimes expand.  They can be stacked one on top of the other to make winning even easier.  In some bonus rounds, the wilds will stay on the reels until the bonus round is over.  This feature makes it possible for you to "collect" a slew of wild symbols and therefore a slew of big wins in these bonus rounds.
Sometimes, the winning symbols will cascade off the reels and are replaced by new symbols.  This feature, naturally, is called cascading reels!
Slots have free spins bonus rounds.  In many slots, you can retrigger the free spins by getting three scatter symbols while you're spinning your free spins.
Slots have multipliers, multiple paylines, and many other ways to win.  In fact, some slots have so many ways to win that we lost track of how many paylines they have and we simply call them ways to win slots.  How does 243 ways to win sound?
We thought so!
Characters
Modern slots each have from six to twelve unique characters.  These characters help advance the story.  We hope that you'll be attentive to all the characters in the 200 or so slots you play here at Everygame.  That's because our games provider, SpinLogic Gaming works extra hard to develop new characters for every new game they bring out!
The different characters make each of our slots an exciting adventure of the imagination.  People talk about vicarious pleasure.  That is what the slots we offer you are all about!
Progressive Jackpots
Some slots have jackpots that grow and grow until a lucky player wins it.  When that happens, the jackpot resets and gamers go for it again!  The biggest progressive jackpots get up to seven figures - real life changing wins!  Be sure to bet the max on progressive slots - in order to win the max, you've got to bet the max.
In Short
There are entire books about slots so to distill everything into a short article is nigh on impossible.  Still, in one word, all of the slots you can play at Everygame get a big fat double F - for Fun and Fantastic!