Fasten your seatbelt and get ready to travel through time, playing our crazily-good Cubee "floating symbols" slot game at Everygame Casino.
As the folks at Realtime Gaming would put it, this is a game with no boundaries. As others may say? This is the strangest RTG online slot yet - in a good way. A slot game with completely new game mechanics, the Cubee online slot is now live at Everygame Casino, ready for you to join in, in what is likely, the most exhilarating time travel game you've yet to come across.

So, why is this game so different than the traditional RTG online slot games? To start, the Cubee slot game contains only one payline - not more, not less - which supports eight floating symbols (which represent the Enemies, Weapons and Power Balls). The goal of this slot is to not only help Cubee defeat his nemesis (Rocco), but while you do so, you will take a trip to some of the most monumental times in history.

Starting in the era of The Stone Age, transcending into The Era of Piracy and lastly, finishing off in The Viking Age, each "spin" you make will call forth eight floating symbols, Enemies, Weapons and Power Balls. The goal here is to defeat your current Enemy, with the help of Weapons and Power Balls, by overcoming their Strength Level with that of your own (always starting at Level 1, and increasing as you defeat and prosper). Reduce the nemesis Rocco's health with the Weapons provided, and you move to the next level, or era, ready for the battle to commence. If you manage to get the adorable Cubee back to Cubeeland, then you'll be set for some major bonus backlash.

The Cubee time travel slot is one of the first games from Realtime Gaming following these game mechanics, which is available at Everygame Casino on Download, Instant Play and in the Mobile Casino.
Players who like Cubee also enjoy: Banana Jones, Fish Catch, Pulsar and Nova 7s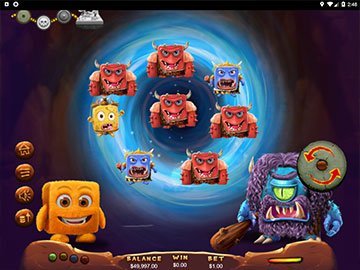 Ready for an adventure?
four levels
Higher Winning Combinations reaching Cubeeland
50,000x top award
While the innovative Cubee online slot game has only one payline, the fact that you can win up to 50,000x your bet per payline is well worth the trip back in time.

Look out for a valuable resource - the Energy Balls - as they will automatically defeat your Enemy in each of the levels, while the Power Balls will increase Cubee's strength. Weapons will get the dreadful Rocco off your back, pushing you to the next era and ultimately, bringing Cubee back to Cubeeland.
The Cubee online game is for those who really have the passion to win, is that you?