Step up to the Caribbean Stud Poker table at Everygame Casino to enjoy some relaxing island cards in this five-card poker game, as well as the chance to win the mighty progressive jackpot.
Set on a slick and chilled-out table, you'll see all of the familiar areas for the Caribbean Stud Poker table, with the ante and raise sections, the table rule of 'Dealer only plays with Ace/King or better', as well as the added betting area for a chance to be in with a chance of winning the progressive jackpot.
Then there are also the play buttons at the bottom of the screen; three easy buttons that allow you to fold, raise or deal in play.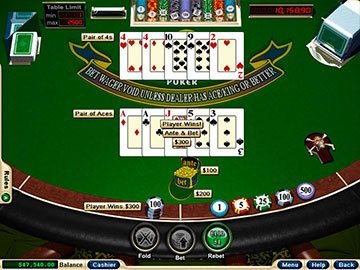 The real draw of Caribbean Stud Poker is the progressive jackpot. Before the start of any game, you need to place a side bet in the progressive jackpot zone to be in with a chance of winning a chunk of the prize pool.
The returns from the progressive jackpot are dependent upon what you then draw in that next game: a flush returns $75; full house gets $100; four-of-a-kind wins $500; 10% of the pool is won with a straight flush, and the entire progressive jackpot is claimed with a royal flush.

So many people enjoy the base game of Caribbean Stud Poker as it is, but this version takes it to another level with its superb addition of a progressive jackpot.

Get on it today to test your poker skills at the Caribbean Stud Poker table, and test your luck with the progressive jackpot.