Enter into this riveting game at Everygame Casino that combines the simplicity and excitement of a slot machine with the classic game of Keno. With the quick pick feature, you can test your luck to the maximum or go with your lucky numbers each time.

With an intuitive board and many ways to win, Keno is a great user experience for those who seek enjoyment and rewards.
The board of Keno is a ten by eight square, with 80 tiles to take your pick from, and features a very helpful history board on the side, showing you how well you've played in the recent rounds.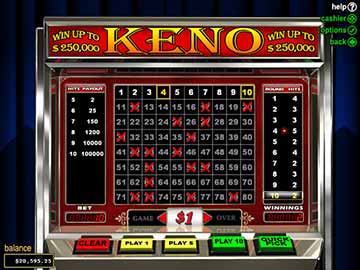 The game is very simple. If not auto playing, you select up to 15 numbers on the board. You can play one, five, or ten consecutive Keno games using the same numbers if you click "Play 1", "Play 5" or "Play 10".

After that, the game selects 20 numbers of its own, and the more numbers match your numbers, the more you can win. With the potential to win up to 10000 times your initial bet, there's much to be won on Keno.

Come and play this inventive and joyful game of Keno at Everygame Casino - test just how lucky your favorite numbers are!