Piñatas are a long-standing tradition in Mexico. And we are bringing the fun to Everygame Casino as well. The Jackpot Piñatas Deluxe online slot is filled with one of our biggest jackpots! 
While piñatas are traditionally associated with Mexican culture, their origin is actually Chinese. The first piñatas were clay pots in the shape of an animal. These pots were filled with seeds. After the piñata was broken, it was then burned while the ashes were kept as a good luck charm. The custom passed to Europe during the 14th century, and became associated with religious traditions. Modern piñatas aren't associated with religious beliefs anymore. They are also made of papier-mâché rather than clay, which is a cheaper and safer alternative.
Piñatas get their name from the Italian word 'pignatta', which roughly translates into clay pot. The Spanish took the tradition to Mexico during the 16th century. But curiously, the Mayan and Aztecs also had a similar religious tradition, which included breaking pots while blindfolded. Rather than seeds, however, their piñatas were filled with treasures as a divine offering. And Jackpot Piñatas Deluxe is also filled with treasures!
The Jackpot Piñatas Deluxe game is available at Everygame Casino in our Mobile Casino or on Download and Instant Play.
Players who enjoy the Jackpot Piñatas Deluxe slot game recommend: Jackpot Piñatas, Popiñata, Diamond Fiesta, The Mariachi 5 and Lucha Libre 2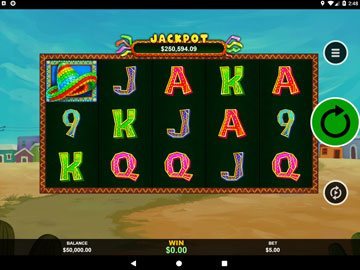 Hot prizes await in the Jackpot Piñatas Deluxe slot
40,000x top award
Progressive jackpot
Bonus rounds with prizes up to 200x your bet
This slot has plenty of special features and bonuses. The Star Piñata will act as the wild, substituting for all symbols (other than the scatter) to complete a winning combination. Speaking of the scatter, the Sombrero Piñata shows up in reels 2, 3 and 4, and it will trigger the Pick Bonus Feature. Line up 3 or more Sombrero Piñata scatters to play the bonus rounds.
During the Pick Bonus Feature, you will choose 2 out of the 3 symbols that show up on screen. You will then win prizes up to 200x your bet. You can also win additional bonus rounds depending on which symbol you pick. Better yet, there is no limit to bonus rounds, which means that you can keep triggering them consecutively. These piñatas simply don't stop dropping prizes! And it still isn't over. At the end of the bonus rounds, you will also be awarded free spins, from 5 up to 25. But that's not all - free games offer doubled wins!
Finally, it's time for the big prize. Jackpot Piñatas Deluxe has a major progressive jackpot, starting at an already impressive $250,000. In order to claim the prize, you only need the 5 special symbols to show up on a payline. There is simply no way to leave our piñata party without some nice prizes.
Get ready to claim some sweet wins from the piñatas at Everygame Casino!