Everygame Casino offers you lots of chances to score big wins - but how about scoring some hyper wins? The Hyper Wins slot is packed with some incredible features.
And just like that, in the blink of an eye, your wins are going to skyrocket. This slot offers you so many chances, it's almost unreal.
Now suit up, because it's time to get our journey to hyperspace going. Let's get it started with the moon wild. It will substitute for all other symbols, except the scatter. Throughout history, the moon has always been surrounded by mysticism - and it will work some of its magic here too! Pay attention to the center row, which is the bonus line: when 3 of the same symbol show up, it will trigger the Hyperwin features. These 3 symbols will transform into wilds. In other words, they will fly you to the moon and increase your chances of scoring an even bigger win!
The Hyper Wins slot is available at Everygame Casino in our Mobile Casino or on Download and Instant Play.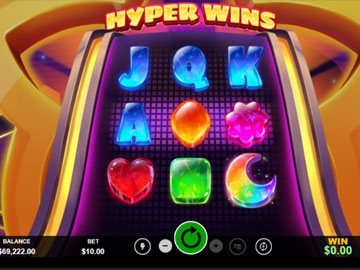 Discover cosmic winnings in our Hyper Wins slot
Instant prizes up to 1,000x your bet and a maximum prize of 5,000x
Free games extravaganza - win up to 200 free spins with doubled prizes
Transforming symbols
Keep aiming for the moon - even if you miss, you could still land on the star scatter! When at least 3 star scatters show up in the reels, it will trigger the free games feature. The number of free games depends on how many scatters you land. While 3 scatters will reward you with 5 spins, landing all 9 scatters will trigger a supernova of winning with 200 free spins! During free games, your wins are doubled, and extra moon wilds are also added to the reels. And the feature can be retriggered to increase your chances even further. Free games are played at the same bet as the triggering spin.
And that's not all the stars can do to help you. When you land 4 or more stars, it will also trigger the Hyper Prize features before the free games are awarded. During this bonus round, you get to pick from a 9-reel grid which contains a number of special prizes - including instant 1,000x wins. Each scatter in the triggering spin equals 1 pick, which means that you will have from 4 to 9 chances.
Even if you don't land a winning spin right away, it is far from over. The Hyper Wins slot also has a lucky feature. At the end of any spin, whether you win or not, the game may randomly award you with free games or up to 9 picks in the Hyper Prize feature. Lucky feature rounds are also played at the same bet as the triggering spin.
In our Hyper Wins slot you will be scoring some hyper wins as soon as you get the reels spinning. If you want to fly to the moon and play among the stars, then Everygame Casino is the place.