We expect a massive prize storm at Everygame Casino! The Twister Wilds slot game comes packed with special features, prizes and free spins.
Twisters, which can also be referred to as tornadoes, are a dangerous and extremely violent weather phenomenon. They occur whenever a rotating column of air, originating from a cumulonimbus cloud, touches the ground. Because of the low pressure, water vapor in the air condenses, leading to the characteristic funnel cloud. Twisters have six different grades according to the EF scale. EF5 tornadoes are strong enough to bend metal, and they even rip buildings off the ground. These violent twisters can reach up to 300 mph in travelling speeds, with 2 miles in diameter, and will cover just under 100 miles in travelling distances.
But while real twisters are quite terrifying, the winds here are much more tame. The winds of good fortune in our Twister Wilds slot will help you score some nice prizes instead. This slot has a slightly different grid, with a 5x5 reel format and 50 fixed paylines. You will have a chance to score some big prizes, with the top award available paying 50,000x the bet per line!
The Twister Wilds slot is available at Everygame Casino in our Mobile Casino or on Download and Instant Play.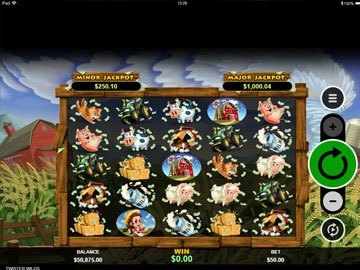 The Winds of fortune are blowing in our Twister Wilds slot
Wild symbols will triple your wins
Free games with expanding wild symbols
50,000x top award
While common sense tells you to stay away from twisters, this slot will twist that logic around. You will probably want to do some tornado chasing here. Running into a wild twister symbol, which only shows up on reel 3, is a very good sign. The twister wild will substitute for all other symbols, including the scatter, and complete a winning combination. But that's not the only thing it does. When the wild completes a combination, it will also add a 3x multiplier to your win! Better grab your equipment and get ready for storm chasing.
The Twister Wilds slot also comes with a free games feature. Three or more scatter symbols, the weather vane, need to appear in the reels. When that happens, they will trigger 9 free spins. But these aren't just your average spins. During the free games feature, the wild symbol will expand to 1 or even 2 additional reels. In other words, the twisters will increase your chances of scoring a win, while also adding the usual multiplier! We did say that the winds of fortune were blowing, didn't we? The games will be played at the same betting lines as the triggering games, and the feature can be retriggered.
Are you prepared for wins that will definitely blow you away? The winds of fortune are already blowing at Everygame Casino!