No need to get your eyes checked - you aren't seeing double! The Copy Cat Fortune slot game offers twice the fun and even more chances to win at Everygame Casino thanks to its unique features. 
In fact, you may end up seeing double, triple, quadruple or even quintuple - but we will get to the specifics later on. Before we get started with the game itself, how about some nice little trivia? Do you know where the term copycat comes from? It's a funny story. If you pay close attention, you will notice that cats have a tendency to imitate the behavior of other felines. Kittens in particular have a habit of copying their mother's moves. Another explanation offers a simpler explanation. The word "cat" was used as a derogatory term for a person - which in turn makes copycat pretty much self-explanatory. The earliest use of the word comes from the 1887 book Bar Harbor Days.
The Copy Cat Fortune slot is available at Everygame Casino in our Mobile Casino or on Download and Instant Play.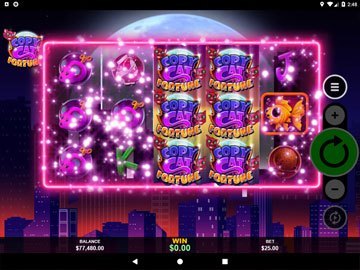 Get ready for the cutest win streak in our Copy Cat Fortune slot
Reel Copy feature to increase your chances of winning
Mystery Stack feature which can randomly add high paying symbols
Maximum payout of 50,000x your bet
And now, let's get to the main topic. Copy Cat Fortune is a 5-reel slot with 25 fixed paylines. But it's far from being a copycat game. Even a regular spin comes packed with surprises. For starters, each reel contains a consecutive stack of mystery positions. During a spin, the mystery position is replaced by a symbol. That also includes the Cat wild (which will replace all symbols except the scatter to complete a winning combination) and the Moon scatter.
When matching stacked symbols show up in Copy Cat Fortune slot on reel 1, the game will trigger its reel copy feature. The matching symbols will be copied to 1, 2, 3 or all 4 remaining reels. Remember that part about seeing double, triple, quadruple or even quintuple? We weren't kidding! These copycat reels can create a winning combination at any time, increasing your chances of scoring a big prize.
Now if you land 3, 4 or 5 Moon scatter symbols, the game will trigger its free spins feature. You will get 5, 6 or 8 free games depending on the number of triggering symbols. However, if multiple paylines contain winning combinations with bonus symbols, you will win up to a maximum of 200 free games! During free spins, you will also have an increased chance of triggering the reel copy feature.
If you win at least 10 free games, you will also have the chance to pick between regular free spins and 50 lines. And if you win 30 or more free spins, that list will also include Super free games and Mega free games.
During a 50 lines feature, you get to play half the awarded free spins with 50 fixed paylines instead of the usual 25. The remaining spins will be played as regular free games. During the Super free games feature, you get to play 1/3 of the total free spins with a 3x winning multiplier, while the remaining games will be regular free spins. And finally, Mega free games offer you a chance to play 1/5 of the awarded free spins with a 5x winning multiplier!
Come and enjoy a unique experience in our Copy Cat Fortune slot - after all, no second-hand imitation can match Everygame Casino!