A pack of meerkats has just arrived at Everygame Casino, and they are a vigilant bunch - for a very good reason. These little critters are keeping a sizable fortune in the Meerkat Misfits slot game.
They may look adorable at first glance, but don't let that fool you: these meerkats are armed and dangerous! Can you cash in on their treasure in our Meerkat Misfits slot?
Meerkats have some very interesting habits. They are highly social animals that live in packs consisting of around 30 individuals. Meerkat packs are quite fascinating as well. Did you know that these little mongooses follow a very strict hierarchy? The dominant meerkats are breeders, while the subordinates are responsible for taking care of their offspring. They are also extremely intelligent, being able to communicate by using a system of vocal calls. Meerkats have 12 different signals, each one carrying a specific warning. This way, they can tell the pack about nearby aerial or terrestrial predators, among other dangers.
The Meerkat Misfits slot is available at Everygame Casino in our Mobile Casino or on Download and Instant Play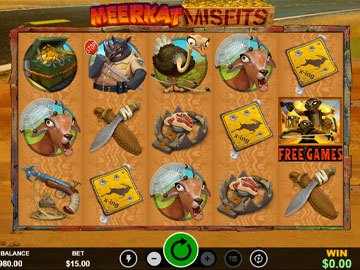 Strike it rich in our Meerkat Misfits slot
Multiplying wilds
Free games with 4 different stages
Big payouts up to 2,000x your bet
Our pack of misfits consists of four meerkats: Scout, Hunter, Muscle and their boss, Commander. As you can see, they also follow a very strict hierarchy. The four act as the Wilds in this game, and will substitute for all symbols other than the scatter to complete a winning combination. Each meerkat carries a prize multiplier: 1x (Scout), 2x (Hunter), 3x (Muscle) and 4x (Commander), showing up on reels 2, 3, 4 and 5 respectively. If more than one multiplier appears in a winning combination, only the highest multiplier will apply.
Meerkat Misfits also has a very different free games feature. Different from the usual free spins, this slot splits them into four different levels. Each new trigger allows the player to advance one stage. Naturally, the feature starts on level 1 with the first trigger, which awards 7 free spins. During this stage, all multiplying wilds are changed to 1x, while retriggering the feature during the stage will add 7 free spins. The stage ends when there are no spins left.
If you manage to trigger the free games feature a second time during a normal spin, the special stage will advance to the second level. This time, all multiplying wilds are changed to 2x, and you get 8 free spins. Retriggering the feature during the bonus round adds another 8 free spins.
The third trigger will take you to stage 3. Following the same rule, all multiplying wilds change to 3x, with 9 free games. You can retrigger the feature during the free spins to add another 9 to the count. Finally, if you trigger the feature a fourth time, you will advance to the fourth and final stage. This time, you get 10 free spins and 4x multiplying wilds. Once you clear the fourth stage, the feature resets to stage 1.
Will you walk away carrying the treasure from the meerkats' burrow in our Meerkat Misfits slot?