The wheel of fortune has been set in motion - will it choose you? Spin and find out in the Neon Wheel 7s slot game at Everygame Casino!
You can spin the reels, and then go on to spin the bonus wheel for extra prizes. And with plenty of prizes available one way and the other, you will be racking up wins in no time. You will probably understand it better once we get to the game features.
The Big Six Wheel is a fixture in many casinos around the world, but do you know where the game actually comes from? Spinning a wheel to win prizes is a very old tradition, dating all the way back to ancient Greece and ancient Rome! Historians believe that Greek and Roman soldiers used the wheel of fortune game as a way to split the spoils of war.
Using marked shields or a chariot wheel, the soldiers would each pick a section and spin it to determine the winner. This ancient wheel game was also one of the earliest forms of gambling.
Neon Wheel 7s slot has a relatively simple design. It is a 3-reel slot with 5 paylines. As you can see, it combines two true casino classics - the 3-reel slot and the Big Six wheel. But let's stick to the slot portion for now.
The Neon Wheel 7s slot is available at Everygame Casino in our Mobile Casino or on Download and Instant Play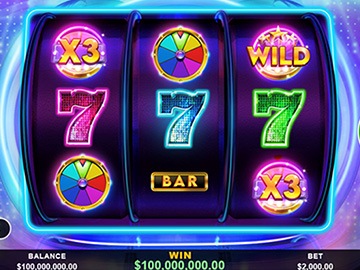 Race to big winnings in our Neon Wheel 7s slot
Free games with prize multipliers, instant prizes and jackpots
Multiplying wilds
Bonus wheel feature with lots of different prizes
At first glance, the Neon Wheel 7s slot probably looks like your average slot game. However, it all changes once we get to the wild. Just as any other wild would do, this one will act as a substitute for other symbols in order to complete a winning combination. Unlike a regular wild, Neon Wheel 7s features 3x multiplying wilds! That's right - if the wild completes a winning combination for you, it will actually triple the win!
Keep spinning the reels until you land on 3 scatter symbols to trigger the Bonus Wheel feature. And this is where Neon Wheel 7s really shines. The Bonus Wheel is packed with prizes, and you will have quite a few chances to win big.
In the Bonus Wheel feature, players can win 8, 10 or 12 free games with a 2x instant prize as well. Or you could also win an instant prize of 8x, 10x, 20x, 25x 50x, 80 or 100x your initial bet. There is also the possibility of earning an extra Bonus Wheel spin, which also comes with an instant prize of 5x your bet. Last but definitely not least, you can also win a jackpot prize! How many prizes can you grab in a single playing session? There is only one way to find out, and that's by spinning the reels and the wheel.
Are you ready to spin the wheel of fortune at Everygame Casino and find out what it has in store in Neon Wheel 7s? Then come and play with us!