My friend, welcome to Everygame Casino. I trust that your journey has been a happy one, and that you will enjoy your stay in my beautiful land. From your friend, Count Cashtacular. The generous vampire has presents waiting for you in the Count Cashtacular slot.
If you are looking for the perfect game during the Halloween season, then this one is a must. Featuring the charismatic Count, plus lots of prizes and incredible features, there are plenty of reasons to love this game.
How about a little introduction to vampires? Before we arrive at his castle, you should learn a thing or two about them. As you can probably imagine, Count Cashtacular is a close relative of the one and only Count Dracula.
The world's most famous vampire was created by Bram Stoker in the 1897's novel namesake character. Dracula forever changed the vampire archetype. These bloodsuckers looked nothing like the modern image: vampires were actually undead and had decaying bodies, bloated with the blood sucked from their victims. The Count, on the other hand, was an elegant, polite and well-dressed noble.
As most people know, Dracula was based on the Wallachian ruler Vlad Dracula, or Vlad the Impaler. But Stoker also drew inspiration from famous British stage actor Sir Henry Irving, his close friend and also an object of Stoker's admiration. The vampire lord closely matches the author's descriptions of Irving, a figure who inspired both fear and respect in Stoker.
But that's enough about vampires. Now that we have finally arrived at Count Cashtacular's residence, it's time to tell you a bit more about the castle's secrets.
The Count Cashtacular slot is available at Everygame Casino in our Mobile Casino or on Download and Instant Play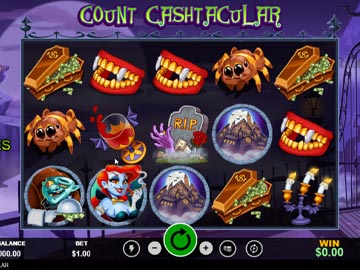 Sink your Teeth into Big Wins in our Count Cashtacular slot
Nudging Wilds that can cover the whole reel
Pick between free spins and re-spins
Free spins with triple prizes
The vampire is happy to help his guests every now and then. In the Count Cashtacular slot, the Wild symbol will act as a substitute for other symbols to complete a winning combination. But we aren't talking about your average Wild symbol here: Count Cashtacular will use his powers to help you out big time!
First, the Wild will nudge other symbols out of its way to cover the whole reel. In other words, it can significantly increase your chances of winning by moving multiple symbols out of the way. This, however, is only one of Castle Cashtacular's secrets.
One thing you will probably notice is that this slot does not have a scatter. Instead, Count Cashtacular is the one responsible for triggering the free games feature. When the Wild appears on reels 1 and 5, it will trigger a pick feature. Players can choose between two options: 12 free spins, which come with a 3x prize multiplier, or 5 re-spins, all with the Wild held in reels 1 and 5. No matter which one you pick, the Count is more than happy to pay with generous wins.
And now, enjoy your stay at Cashtacular Castle, located deep in the vampire land of Everygame Casino.