Looking for a slot that will enchant you? Then you definitely have to check out the Mermaid Royale slot at Everygame Casino.
The beautiful mermaids will sing their beautiful and sweet songs, bringing lots of wins and good luck to those who listen to them. They have also used their magic power to create many exclusive features to boost your chances of winning.
Fun fact: did you know that mermaids weren't aquatic creatures at first? The modern mermaid originates from the Greek sirens. While sirens are usually considered synonymous for mermaids, they were originally two completely different creatures. In ancient Greek, sirens were half-woman, half-bird hybrids. The sirens' most distinguishing trait was their beautiful singing voice. Greek mythology mentions cases in which sirens seduced ship crews and led them to death. Sirens also appear in Homer's Odyssey, in which Ulysses saves his crew.
The first registers of sirens depicted as mermaids date back to the 3rd century BC. However, it wasn't until the Middle Ages that the sirens completed their transformation. Around the 8th century, sirens had completely morphed into the modern mermaids, taking the half-woman, half-fish form we know.
The Mermaid Royale slot is available at Everygame Casino in our Mobile Casino or on Download and Instant Play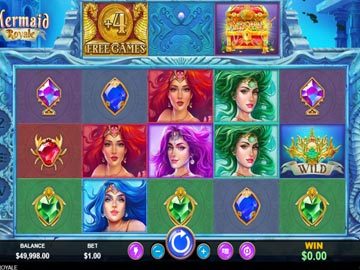 Retrieve suken treasures in our Mermaid Royale slot
Extra row with special symbols
Expanding Wilds and re-spins
Free games with 3 random boosters available
In the Mermaid Royale slot, these enchanting sea creatures are definitely the helpful type. Listen to their songs and good things will come. The game has a 5-reel format, with 25 paylines. One of Mermaid Royale's most distinguishing features is its extra row: the slot has an additional bonus row with three reels that spins simultaneously with the mainbox reels. These extra rows have blank spaces and 3 special symbols: the Wild, the Scatter and the Special Scatter.
Let's start with the Wild. When a Wild symbol shows up on the extra row, it will then turn into an Expanding Wild and will move to the respective position in the mainbox reels. Wilds substitute for other symbols to complete a winning combination.
Next up is the Special Scatter symbol. When 3 Special Scatters appear on the extra row, it will trigger the re-spin feature. During re-spins, a random symbol will be locked in a 3x3 format, covering all positions on reels 2, 3 and 4.
Last, but definitely not least, comes the Scatter symbol. When 3 or more Scatters appear anywhere on the mainbox and/or the extra row, the game will trigger the free spins feature. The number of free games is determined by the number of Scatters. Each Scatter in the mainbox awards 3 free games, while each Scatter in the extra row awards 4 free games. During free games, reels 2, 3 and 4 change to a 3x3 format with big symbols covering all positions. Scatters in the extra row also give you a random booster. There are three different boosters in total: Wilds on reel 5, a 2x prize multiplier and duplicate Wilds in the 3x3 symbols reel.
If you already have your diving gear in hand, then come join us and explore the mermaids' magic world in our Mermaid Royale slot.