There is an alien invasion happening! But don't worry - they come in peace, and with lots of prizes to offer. We are talking about the Alien Wins slot game at Everygame Casino!
Alien contact is a very common theme in pop culture and exploded in popularity with H. G. Wells' 1897 book, The War of the Worlds. But the first mention of alien contact in literature came well before that - in the 18th century, precisely. Famous Swedish mystic Emanuel Swedenborg claimed to have visited Mercury, Venus, Mars, Jupiter and Saturn with the help of his extraterrestrial acquaintances.
While some still view alien contacts with scepticism, many space agencies, astronomers and scientists have already dedicated time and resources to explore the theme and its potential impacts.
Whether alien civilizations are peaceful or aggressive remains a contentious topic. In Alien Wins, however, we assure you that our extraterrestrial visitors have the best possible intentions. In fact, they are more than happy to lend you a helping hand and offer their technological advancements to improve your chances of winning big.
The Alien Wins slot is available at Everygame Casino in our Mobile Casino or on Download and Instant Play
The Alien Wins slot has plenty of features to boost your chances of scoring astronomical wins. And some of the features are so advanced, they might as well have come from outer space…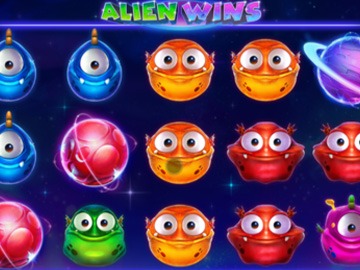 Extraterrestrial features in Alien Wins
Morphing Wilds
Bursting Wilds
Cosmic Spins
Alien Wins is a 5-reel game with 10 paylines. The Morphing Wilds are one of the first features you will notice. Just as in any other game, the Wilds will act as substitutes for other symbols to complete a winning combination.
In Alien Wins, when one or more Wilds appear in any row in reels 2, 3 and 4, they will expand to cover the entire reel. And when that happens, you will be awarded one re-spin. During re-spins, the Wild reel remains locked in place. If a Wild symbol appears during the re-spin, you will be awarded another re-spin. The feature ends when no Wild symbols show up during a re-spin. But that's not all: during this feature, each Wild symbol will also add a multiplier to the prize - x2, x3, x5 and x8. Your total win, multipliers included, is calculated at the end of the feature and is applied to the betting line of the triggering spin.
Wild symbols also have another unique trait: they can turn into Bursting Wilds! A Bursting Wild can be randomly activated after any spin or re-spin. When that happens, 1 to 3 Wilds will land on reels 2, 3 and 4. However, they cannot land on top of other Wild symbols.
And there is also the pinnacle of alien technology: Cosmic Spins. This feature allows you to pay 10 times your bet for one guaranteed Wild symbol per spin or 95 times your bet for 2 guaranteed Wilds! The Cosmic Spins feature will remain active until you manually deactivate it again.
Ready to score prizes from outer space? Come and meet the extraterrestrial visitors at Everygame Casino!