You have just found an absolute gem! The Giant Fortunes slot game is packed with brilliant features that will provide plenty of chances to score some big wins at Everygame Casino.
Gemstones can be found in a wide range of sizes, shapes and colors. They are split into two different groups, precious and semi-precious stones, according to these characteristics. While there is no universal grading for gemstones, it's usually agreed that precious stones are translucent and extremely hard. Mineralogists, lapidaries and jewellers agree that there are only four kinds of precious gemstones: diamonds, emeralds, rubies and sapphires. All other gemstones are considered semi-precious, but that doesn't make them any less special.
A gemstone's value is decided by taking a number of different factors into consideration, including the stone's reflective index, hardness, density and lustre. Their chemical composition is also extremely important, since it determines a gemstone's characteristics - from its colors to its format.
The Giant Fortunes slot is available at Everygame Casino in our Mobile Casino or on Download and Instant Play
Here is what you are going to find in this game that will make your playing experience even more precious.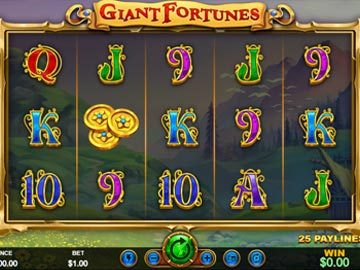 Dig up a sparkling fortune in Giant Fortunes slot
Magic Gem feature: all gems turn into the same symbol when they appear
Free games with added extra spins
Special Gem Symbols
And now, let's explore some of Giant Fortunes' features. This slot has 5 reels, with 25 paylines. You will soon notice that it has extremely polished gameplay as well, with all special modes well-designed to provide a smooth playing experience.
Giant Fortunes has special gem symbols. But much like actual gemstones, you won't find them everywhere: these symbols are restricted to reels 2, 3 and 4. Of course, whenever these symbols show up during a spin, amazing things happen.
During base games, gem symbols are grouped on those three reels mentioned above. Whenever you land on them, the gems will all change to the same random symbol at the end of the spin. In other words, they can form a winning combination depending on which symbol they transform into. Like actual diamonds in the rough, these gem symbols can turn into something truly incredible with a nice polishing!
Now if the gems cover reels 2, 3 and 4 during a normal game, then it will trigger the free games feature. Giant Fortunes awards you with 5 free spins, while also activating the Magic Gem feature. During these spins, gem symbols will only show up on reel 3. But there is nothing to worry about, as these stones will shine even brighter this way: when you land on a gem symbol, it will turn into an oversized symbol, expanding to cover reels 2, 3 and 4. Payouts are awarded after the spin. Whenever the oversized Gem mystery symbol shows up, it will also award you an extra free spin!
Let's polish these precious gems in our Giant Fortunes slot game and make them shine beautifully at Everygame Casino!