Everygame Casino has a divine slot offering for you. Dive into the fascinating world of ancient Greek mythology with the new Fortunes of Olympus slot game!
More than the home of the Greek pantheon, did you know that Mount Olympus is the highest mountain in Greece and one of the highest peaks in Europe? At 9,570 ft, the famous mountain is also home to a rich and diverse flora. In 1938, the Olympus became the first national park in Greece. It is also considered a World Biosphere Reserve by UNESCO.
In Greek mythology, the Olympus is where the 12 major deities of the Greek pantheon reside. They are Zeus, the supreme ruler and god of thunder; Hera, the goddess of marriage; Demeter, the god of agriculture; Poseidon, the god of the seas; Aphrodite, the goddess of beauty; Pallas Athena, the goddess of wisdom; Artemis, the goddess of the hunt; Apollo, the god of music; Ares, the god of war; Hephaestus, the god of metalworks; Hestia, the goddess of family, and Hermes, the herald of the gods.
The Fortunes of Olympus slot is available at Everygame Casino in our Mobile Casino or on Download and Instant Play
Meet the Olympian deities in this incredible game, which is packed with prizes and features worthy of a Greek god. Take a look at some of the special and unique features you are going to find in Fortunes of Olympus: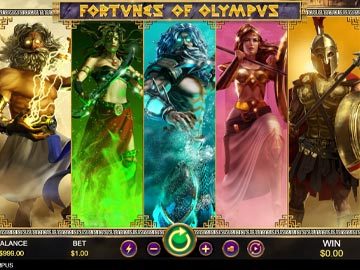 Divine winnings await in Fortunes of Olympus
Pick Bonus Feature
Shifting Reels
Buy Feature
Fortunes of Olympus is a 5-reel, 50-payline slot. The game has a free spins Pick Bonus Feature, which is triggered when at least 3 scatters show up. Fortunes of Olympus rewards players with 12 free spins, during which there are three different options to choose from.
The first one is the Shifting Reels feature. If the player chooses this option, the reels will shift down one row after a winning spin. When that happens, the new combinations formed are then re-evaluated for potential wins. The wins are accumulated across all shifts for that same spin. Once there are no wins left on the board, the player proceeds to the next spin.
The second feature players can choose from 3 to 5 Wild symbols, which are then placed inside the wheelbox area.
And finally, the third feature is the Win Multiplier. A random prize multiplier from 2x to 6x is added to each free spin.
Fortunes of Olympus also offers players a chance to win guaranteed free spins. In order to do that, players simply need to buy a guaranteed free games-triggering spin. The amount to pay for one of these spins depends on the bet per line. This way, players can invest a little extra to reap the rewards of the 12 free games and their additional features!
Are you ready to face the Olympian gods and win lots of prizes? Then climb up the Olympus of Everygame slots and join in on the fun!