Everygame's most famous thieves are back for more. In their most ambitious heist yet, the Cash Bandits return for the fourth game in their namesake series: The new Cash Bandits Museum Heist slot game at Everygame Casino!
Here is a fun story: have you ever heard about the most famous museum heist in history? Well, if you haven't already, you should probably know two interesting bits about it. First, you will probably laugh at how little thought went into planning and executing it. Second, and perhaps the most surprising one: this seemingly amateur heist remains unsolved more than three decades later.
It all happened during St. Patrick's Day in 1990. A pair of thieves posing as police officers entered the Isabella Stewart Gardner Museum in Boston at 1:20 a.m. Under the false pretense of investigating a disturbance. Once they were let inside, the false police officers handcuffed the museum guards alleging that they had arrest warrants issued for both men. After that, the false policemen finally announced the robbery. Seemingly at random, the two robbers stole 13 pieces of art worth around $600 million in total.
The strangest part? While the pair did steal some valuable pieces, they didn't even bother with some of the museum's most famous exhibits, which included some Michelangelo paintings. Investigators believe that these facts prove that the robbers were most likely amateurs. Despite this, the mystery was never solved, and none of the works have been recovered. In 2013, the FBI supposedly discovered the robbers' identities, but that was never confirmed. All kinds of theories have popped up since, which range from the guards' involvement in the heist to a crime plotted by the Boston Mafia.
The Cash Bandits Museum Heist slot is available at Everygame Casino in our Mobile Casino or on Download and Instant Play
This time around, the bandits' carefully crafted plan comes with plenty of features to boost their loot: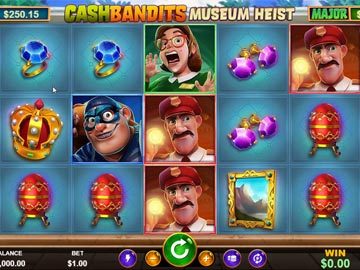 Make big loot with Cash Bandits Museum Heist
Wild Morphing feature, which can expand the Wild to a 3x3 symbol
Museum Heist Feature - Win up to 9 free games with exclusive boosters
Wild Reels and prize multipliers
In Cash Bandits Museum Heist, the robbers have a far more elaborate plan. The slot has a 5-reel, 25-payline format. Keep an eye out for the mysterious Blue and Purple Robbers. Any of them will act as the Wild, and have a chance to morph into a 3x3 symbol to cover additional spaces on the board. Just like any Wild, the Blue and Purple Robbers act as a substitute for other symbols to complete a winning combination.
When 3 or more Scatter symbols appear anywhere on the board, the game will trigger the Museum Heist feature. When this feature is activated, players will have some boosters available during free games: prize multipliers from 2x to 5x and Wild Reels on reels 1 and 5. The number of free games and boosters depends on the number of triggering Scatters: 3 Scatter symbols will reward you with 5 free games and a maximum of 3 boosters; 4 Scatter symbols reward the player with 7 free games and between 2 and 4 boosters; all 5 Scatter symbols reward you with the maximum of 9 free games and between 3 and 5 boosters.
Are you ready to join the Cash Bandits' heist? Then join in on the plan at Everygame Casino!