An ancient legend arises at Everygame Casino. Explore the secrets of history's most fascinating lost civilization in the Masks of Atlantis slot game!
Atlantis has always been one of the most intriguing mysteries of the ancient world. Did the sunken city really exist, or was it nothing more than a myth? Atlantis was first mentioned by Plato in his 375 BC dialogue, Republic. The advanced ancient civilization supposedly besieged Athens but ultimately lost the war. Atlantis' actions angered the gods, and the island was eventually swallowed by the Atlantic Ocean.
There is no actual evidence to back up the Republic's tale. Historians agree that the siege was simply an allegory to exemplify the superiority of Athens' civilization from Plato's point of view. Some expeditions and studies over the centuries have tried to precise Atlantis' location but had no success. One acceptable theory suggests that the sunken city is loosely based on the Minoans, a relatively advanced Bronze Age civilization from Crete. The Minoans were devastated by a tsunami sometime around 1,600 BC, which could have served as an inspiration for Atlantis' similar fate.
In Masks of Atlantis, the legend comes to life, and the sunken city is there for you to explore. Masks of Atlantis is a 5-reel slot with 20 paylines, full of incredible prizes and features!
The Masks of Atlantis slot is available at Everygame Casino in our Mobile Casino or on Download and Instant Play
And, just as the old scripts say, the city is full of riches - which can be all yours with a spin of the reels! Here are some of the advanced features you will run into as you explore the sunken city: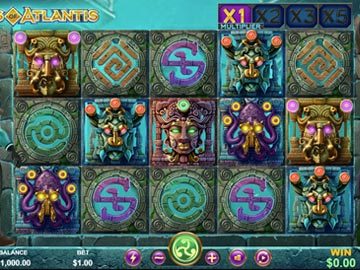 Explore sunken riches in Masks of Atlantis
Cascading wins
10 free games
Multiplier Feature
For starters, let's go with the normal spins, which come with the unique Cascading Wins feature. Whenever you score a win, the symbols forming the winning combination will explode and make way for new ones. This way, you can score multiple consecutive wins in a row - a real cascade of prizes! But that's not all there is to it: each consecutive win adds a 1x multiplier, up to 5x! The Seaquake Multiplier feature is active during all spins. The feature ends and multipliers are reset once there are no more wins on the board.
Masks of Atlantis also has a Scatter symbol. When 3 or more show up from left to right on a winning line, the game will trigger the free games feature. You will be awarded 10 free spins. Cascading wins are also active during free games, but with a twist. Each win you score will add an even greater multiplier this time, from 3x up to a massive 15x! Turns out that the legends about Atlantis' endless riches weren't that far off!
Are you ready to unveil the secrets hidden in the sunken city? Then head over to Everygame Casino!