Green Light is a cool slot that is guaranteed to get your adrenaline going at Everygame Casino.
It's highly unlikely any of us will ever get to be a real-life motor racing driver for a living. So we're grateful to have the Green Light slot, as it's probably the closest we'll ever get to knowing what it feels like to race at those sort of speeds, feel the adulation of the crowd and the other benefits that come with it. We'll come to those in a minute.

Green Light is a 5-reel slot and we'll be honest when we say that it all looks a little-old fashioned. But just like an Elvis tune or a classic episode of Baywatch, sometimes the oldies are the real goodies.

There are cool prizes up for grabs should you get winning combinations with symbols associated with the luxurious world of pro motor racing, such as golden trophies, the racing car, the winning driver, the champagne bottle and even a blonde podium girl.
But the symbol you really want to see is the that of the game's name: the green light. Or more precisely, three of them. Getting those gives you the right to choose which car you want to race in, called the Green Light Feature.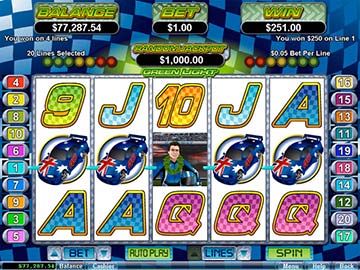 Get your adrenaline going with Green Light

Win direction: left to right
20 paylines
random jackpot
The better in the race you do, the more free games you get. 1st place gets you 25 free games, 2nd 20, 3rd 15, 4th 10 and 5th gets you 5 free games. Finishing in the top two also gives you entry into a second race where you can win even more free games. Any wins secured during free games are doubled.
Of course no race would be complete without a heated argument with other drivers. Win them and the drivers will become Wild symbols and a few of those will really be reason to crack open the champagne.
The Green Light slot is available on Download and Instant Play.
Players who like Green Light also recommend: Rain Dance, Loose Caboose and Coyote Cash.