Robbers want to steal their share of the presents this Xmas in our Swindle All The Way slot at Everygame Casino.
Once the Christmas season is approaching, cunning thieves get ready to get their hands on a share of the presents, lying under the Xmas tree in the Swindle All The Way slot.
The thieves in our Swindle All The Way slot don't care if you've been naughty or nice during the year. They just want to grab their share of the lovingly wrapped presents from under the Christmas tree. In the tradition of movies like Bad Santa or The Gringe, we've taken a hilariously black humored approach in this year's Xmas release. In the tradition of Rudolph's Revenge or Naughty or Nice, there's some comical mayhem brewing with a priceless fun ride to stellar prizes.
Sick of all the Christmas jingles and all the happy folks around, the grumpy robbers are shivering in the cold, outside of beautifully decorated houses waiting for their turn to inspect people's presents under the Christmas tree. The Swindle All The Way slot takes a light-hearted yet darker approach to the holiday season. It not only offers great entertainment, but also many sparkling winning chances. Its comical design, hilarious animations and driving sound help it distinguish itself from all the other ordinary Christmas themed slots.
The Swindle All The Way slot is a fun game that will not only mesmerize the Christmas grouches amongst us. On five reels with 25 paylines, that are packed with chances to swindle someone out of a share of their presents, you're up for one of the most amusing slots in recent history. Swindle All The Way offers hilariously implemented bonus features, leaving you with many chances to strike it rich and flush some extra cash into your Christmas budget.
Players who have a blast playing Swindle All The Way also recommend: Naughty or Nice, Naughty or Nice III, Cash Bandits 2, Cash Bandits, Rudolph Awakens, Return of the Rudolph, The Naughty List, The Nice List, Sweet 16, Snowmania, Santastic, Penguin Power and Panda Magic
In "Swindle All The Way" no one cares if you've been naughty or nice

Win direction: left to right
25 paylines
Random jackpots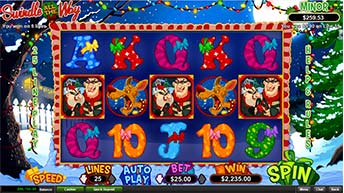 In our Swindle All The Way slot the robbers aren't in a cheerful Christmas mood. Without a cosy home, having no beautifully decorated house nor tree and no presents, they are certainly feeling grouchy this festive season. On the night of the 24th when everything is quiet and waiting for Christmas Day they get ready to stir up some mayhem, as well as steal their share of the gifts. Once they've selected the house best suited for their heist, ladders are put into place and they get ready to relieve people of a share of their presents.
In the Swindle All The Way slot you'll not only have a blast spoiling someone's Christmas Day with our comical robbers, but also with many exceptionally promising winning chances. Keep your eyes open for three "Swindle All The Way" logos to grab your well-deserved free games. Your share of free games increases your chances to get your hands on even better and more precious presents. Don't forget to watch out for the robbers who function as "Wild" and count for any symbol except "Scatters".
Swindle All The Way introduces a stunning bonus feature with plenty of stellar prizes up for grabs! Here you have to make a guess and pick one window where the thieves could be hiding. If your guess turns out to be correct, you'll make plenty of loot! With up to 60 entertaining free games with prize multipliers of up to 33x, you can easily bolster your holiday savings and overwhelm your loved-ones with even more gifts.
To get you in a generous mood while shopping for presents before the holiday season, the Swindle All The Way slot features two random jackpots. These jackpots can be won at the conclusion of any game and will for sure add another nice amount to your Xmas budget this year.

Get ready to create some comical chaos before the Xmas season by playing our Swindle All The Way slot - available on Download, Instant Play and in the Mobile Casino!