Kissing a frog makes a handsome prince, but what other fortunes do our slimey friends bring? It's time for Everygame Casino to take you on another special journey with the Frog Fortunes slot game. This time around, you will head straight into the depths of the rainforest.
This one-of-a-kind slot game is definitely different from anything you've played up until now. With unique features, Frog Fortunes is themed around a somewhat uncommon scenery - after all, it's not often you will find a slot with a rainforest setting. But that's not all that sets this game apart from the rest. You will find that the Frog Fortunes slot really shines when it comes to its unique playstyle. Are you tempted to read more?
At first glance, the Frog Fortunes online slot isn't that different from your average slot. It has a conventional 5x3 reels format, 243 all ways pays and a maximum prize of 150x your bet. However, that's about it. Everything else about this game makes it very unique.
The first thing that will definitely catch your attention - aside from the stunning visuals - is the lack of Wild and Scatter symbols. But it doesn't make winning in Frog Fortunes harder - in fact, it's quite the opposite! This online slot replaces both conventional features with Exploding symbols. How does it work? Well, it's actually quite simple. Just like your average wild and scatter symbols, exploding symbols will show up anywhere on the reels. Of course, they work in a very different way compared to the conventional symbols.
Whenever an exploding symbol shows up on the reels, it will explode with a random pattern. Keep in mind that exploding symbols have ten possible patterns, but will only trigger one of them. This explosion will take out all the other symbols - including other exploding symbols - and replace them with a random one.
The Frog Fortunes game is available at Everygame Casino in our Mobile Casino or on Download and Instant Play.
Players who enjoy the Frog Fortunes slot game recommend: Secret Jungle, Secret Symbol, Wild Hog Luau and T-Rex 2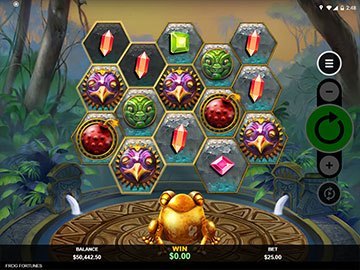 Leap to a shiny fortune in our Frog Fortunes slot
No Wild or Scatter symbols - they have been replaced with the exclusive Exploding symbols!
Cascading reels feature
243 All Ways Pays - win up to 150x your bet!
Now this is where it gets really interesting, as we take a look at the second special feature. The exploding symbol will also trigger the cascading wins feature. If you happen to land on a winning combination after the explosion, new symbols will then continue to cascade and replace the ones from the winning combination. That pattern will continue until there are no winning combinations left on the reels. In other words, you will be piling up one win after the other! This really makes Frog Fortunes a fresh, unique and innovative slot, offering a two-in-one experience. A real cascade right in the depths of the forest!
The spin button is disabled during the cascading wins feature, since you won't need to do anything. Don't worry - the game will take care of winning for you! Exploding symbols won't show up during the cascading wins feature either.
Are you feeling adventurous to join us on this journey into the unknowns of the rainforest? Then you will be happy to know that the Frog Fortunes online slot is available on download, instant play and mobile. Come to Everygame Casino and watch as wins continue to rain down on you!