Beat your fear and face one of the mightiest beasts that ever graced the earth in our Dragon Orb slot, while sneaking into the dragon's lair on five reels at Everygame Casino.
The Dragon Orb slot is one of our most ambitious slot releases this year. With the massive success of Game of Thrones we want to give our customers the chance to stand face to face with the most popular beast in fantasy history. In Dragon Orb you slip in the role of a fearless adventurer, trying to pull-off the most epic heist - to steal from a dragon!
Quietly sneak into the dragon's mysterious lair and, without awakening the blazing fury of the dragon, go for your well-deserved share of its unparalleled treasures that keep piling up. Opulent graphics, spectacularly designed characters and a vibrant epic soundtrack will get your blood pumping while you're on a heroic quest.
The Dragon Orb slot makes an impression with its fantastic theme that brings an epic adventure in never before seen blockbuster quality on your screen. Straightforward action and spectacular entertainment await you on five reels with 10 variable paylines. Furthermore, the bonus features in Dragon Orb are both mighty and benevolent guaranteeing that you won't leave the dragon's lair as a pile of ash, instead you'll be generously rewarded for your bravery, grit and adventurous spirit.
Blazing hot fun and mighty features in Dragon Orb

Win direction: left to right and right to left
10 variable paylines
Random Jackpots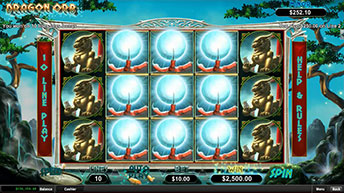 In the Dragon Orb slot the dragons have retrieved to their mysterious dragon's lair with all their sparkling riches, rather than soaring up high and spreading terror and panic in their enemies' hearts. Once you start your descend to their territory you'll be able to almost smell the blazing, fiery breath of the Dragon Lord while you try to grab your share of its treasure. You'll find manifold unbelievable and fantastic winning chances, rewarding you for your courage in accepting this quest.

Keep your eyes open for the mighty dragon orb, symbolizing the unparalleled power and might of the dragon! The dragon orb functions as wild symbol and awards you with your share of legendary free games. Hunting a dragon's lair normally poses some kind of danger, especially whilst getting your hands on their precious treasure. However, in Dragon Orb there's no need to worry about anything else than fabulous entertainment and how to carry the loot back.
During the wild re-spin feature you can feel the unstoppable force of the dragon. Dragon Orb is adding piles of cash to your winnings with an insane prize multiplier of up to 250x your initial bet.
Dragon Orb also features brilliant random jackpots which present yet another chance at getting the winnings into top gear.

Dragon Orb is a stunning, visually appealing 5-reel slot which will mesmerize you with excitement. Even if you're not a fan of fantasy, this spectacle on five reels will get your blood pumping for sure. A whole bunch of epic specials and mighty bonus features offer many ways to take home shiny loot.

Don't be afraid and face the dragon, playing our Dragon Orb slot - available on Download, Instant Play and in the Mobile Casino!
Players who like Dragon Orb also enjoy: Ancient Gods, Three Kingdom Wars, Gods of Nature, Fu Chi, Panda Magic, Kung Fu Rooster, Fucanglong, Cai Hong, Shanghai Lights, Megasaur, Asgard, Orc vs Elf, Eagle Shadow Fist, Gemtopia, Fantasy Mission Force and God of Wealth