Revive the golden era of the Hongkong action-cinema, starring the legendary icon and movie superstar, Jackie Chan, in the Eagle Shadow Fist slot at Everygame Casino.
The Eagle Shadow Fist slot game vaults you right back into the golden era of Hong Kong action movies. A lot of dangers await you while thugs try to take you out. Together with the mixed martial arts legend Jackie Chan you'll not only prevail but snatch rewarding loot. The Eagle Shadow Fist game is part of a series of slots based on and inspired by some of the finest Hong Kong classic action flicks.

In Eagle Shadow Fist, you'll have to deal with the Japanese invading China during World War II. Part of a group of revolutionaries Jackie fights back against the Japanese while facing their toughest commandos. This movie, alongside others, is considered the breakthrough of the later world-famous Jackie Chan.
 
Visually the Eagle Shadow Fist slot game nails it - brilliantly implemented graphics and lively animations bring back the particular charm and aesthetics of this cinematic period. A vivid soundtrack, alongside the fine artwork, will make you almost feel part of the thrilling storyline.
Master the art of winning big in Eagle Shadow Fist
Win direction: left to right
25 variable paylines
random jackpot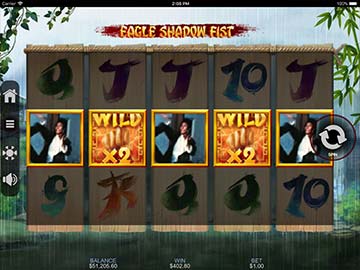 Any special feature you trigger will transform your screen into a classic action flick, with flying bullets and fist fights. Just as you would expect, the Eagle Shadow Fist slot from SpinLogic Gaming (SLG) is an action-packed game, filled with powerful bonus features. Keep an eye out for the "scatter" symbol with two Kung Fu fighters. The scatter could net you up to a whopping 20 kick-ass free games. And that's not all: You can trigger even more scatters during these free games. That way you can generate a knockout profit by multiplying your winnings up to a hard-hitting 4x.

While all hell breaks loose in the Eagle Shadow Fist online slot, the wild symbol is another one to pay close attention to: All prizes double if there's at least one "Wild" in any of your winning combinations.

What was always characteristic for these type of movies was their over-the-top action scenes that also enchanted the Western audience. In the Eagle Shadow Fist video slot, the top reward is designed in such a way - bigger than life. Insofar and if luck is on your side, you can win up to a heavily 40,000x times bet per line.

To add even more excitement to the already fulminant gameplay of the Eagle Shadow Fist game, there's a random jackpot and guess what? With each spin you have the chance to crack the jackpot and take home even more cash.
In the Eagle Shadow Fist slot you'll not only enjoy spectacular entertainment but many chances to truly strike it rich. If you're ready for an action-filled treat, join Jackie Chan and fight your way to big winnings - available on Download, Instant Play and in the Mobile Casino!
Players who enjoy Eagle Shadow Fist also like: Fantasy Mission Force, Fire Dragon, Shanghai Lights, Lucha Libre 2, Fu Chi, Zhanshi, Kung Fu Rooster, Dragon Orb, Panda Magic, Fucanglong, Super 6, Cai Hong and God of Wealth