Science enthusiasts, the game you had been waiting for is here. This time around, we bring you the Pulsar slot game at Everygame Casino.
Reach out to the stars and go travel through outer space in the fabulous Pulsar slot. And the best part is that you can enjoy this incredible trip right here at Everygame Casino. So why don't we take this opportunity to learn a bit more about this fascinating theme?
Let's talk about pulsars first - after all, the slot is named after it. But before getting there, we need to learn a bit about neutron stars. When a giant star reaches the end of its life cycle, it explodes into a supernova. The remains then collapse into a dense core, consisting entirely of neutrons. That compact star has a high rotational speed and emits a beam of radiation, which becomes visible once at every rotation. And this is where "pulsar" originates from, given that the star looks as if it's "pulsating".
Pulsar is available at Everygame Casino in our Mobile Casino or on Download and Instant Play.
Pulsars are a fairly recent discovery. The first one was observed in 1967. Since pulsar emissions happen regularly, they can be used as an extremely effective and precise method to measure time! The first ever pulsar clock was installed inside St. Catherine's Church in Gdansk, Poland, back in 2011.
Players who enjoy the Pulsar slot game recommend: Nova 7s, Dr. Winmore, Cubee and Asgard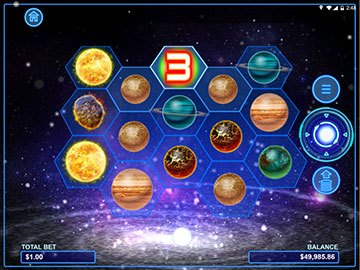 Cosmic specials await in our Pulsar slot
Top reward 150x
Exclusive Neutron Star feature
Cascading Wins feature
Pulsar is a fairly simple and straightforward game, with a 3x5 reels format and 20 fixed paylines. This slot does not have a progressive jackpot. The Pulsar online slot does not have wild or scatter symbols either. Now here is where things get really interesting. Instead of the more traditional features, this slot has a special honeycomb grid round, which is triggered randomly.
The Cascading Wins Feature is triggered during this special round. When a winning combination is lined up, the symbols disappear and are then replaced by new, different symbols. This cascade of symbols continues until there are no winning combinations left on the grid.
Another important feature to keep an eye on is the Neutron Star symbol. These symbols appear randomly during a spin and will be assigned a countdown number, ranging from 1 to 3. Each spin and Cascade Win will lower the countdown by 1. Once it reaches zero, the Neutron Star will then explode. The Pulsar slot has four different Neutron Star symbols. Each one will explode following a specific pattern: Green Neutron Stars explode horizontally. Blue Neutron Stars explode vertically. Pink Neutron Stars explode in a cross pattern, while red Neutron Stars explode in an "X" pattern. The explosion will clear all symbols in its path, including other Stars, and will replace them with a randomly selected regular symbol. Line up a winning combination and win up to 150x your bet!
Players can venture into this cosmic quest for out-of-this-world fun and wins in many different ways. Hop onto our spaceship and come have some interplanetary action at Everygame Casino!