Follow Banana Jones on a hilarious quest and retrieve the precious crystal banana in the fun-filled Banana Jones Snakes & Ladders board game at Everygame Casino.
Meet the witty and cute 21st-century successor of the world-famous Indiana Jones, in our hilarious Banana Jones board game. Following a plane crash, Banana Jones finds himself somewhere deep in the jungle, but that's not the only issue. You're on a mission to retrieve the sacred banana from a mysterious pyramid.

Set in a colorful and vibrant comical world, your goal is to retrieve the above-mentioned sacred banana in the Banana Jones Snakes & Ladders online game. SpinLogic Gaming (SLG), who released a number of very popular online video slots, such as Secret Jungle, Ancient Gods, Gods of Nature, Lucha Libre 2 and Three Kingdom Wars, have landed another big coup with Banana Jones.

Banana Jones is a Snakes and Ladders type of online game that offers both superb entertainment as well as massive chances of winning. While making your way up to the pyramid, you'll find countless chances to add plenty of shiny prizes on top of your gaming experience. But the adventure is still to come and in Banana Jones this is in the form of the grim leopard general "Leopold the Leopard" with his malicious snake army.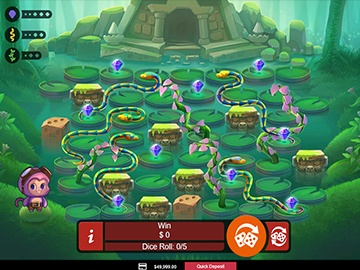 Superb fun awaits in Banana Jones
Snakes & Ladders Style Board
Many top features
2,565x top award
2 dice
With a dice results range from two to twelve, five dice rolls per bet and plenty of free dice rolls, you'll bring Banana Jones closer to his goal and your reward. Banana Jones is a Snakes & Ladders type of game with the following rules: If our clever protagonist Banana Jones lands on the head of the snake, he slides down to its tail. Whenever Banana Jones lands on the base of a vine, he climbs up to the top. The symbols collected are tracked by the counter and are paid according to a pay table.
Another brilliant extra in Banana Jones is the Treasure Wheel Feature. This Treasure Wheel bonus feature is triggered every time Banana Jones lands on the Treasure Wheel Head of the board. This means you may fill your pockets with well-deserved prizes as one spin is awarded for a cash prize.
As Banana Jones reaches the giant pyramid temple at the end of the board, the Crystal Banana Quest Feature is triggered. Then you can select one of the treasure chests. Whichever delicious and highly precious fruit (plum, apple, banana, grape, pear) is inside the treasure chest will be added to the counter. The first counter you complete awards you the prize displayed and definitely you won't be disappointed.